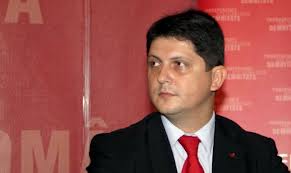 By Daniel Stroe – Bucharest
Romania, which holds the one year long presidency of the Southeast European Cooperation Process), will invite Kosovo to the meetings of this regional structure despite Bucharest's refusal to recognize its independence, but only in a format agreed with Serbia, Romanian FM Titus Corlatean said today.
"Of course, we will invite Kosovo, too, to the SEECP meetings, but in a format agreed with Serbia, namely this Gymnish type informal format, without the country name plate and the national flag. If there are documents to adopt, we will resort to the accepted international formula, with asterisk and a footnote which cites international documents" Corlatean explained.
He underlined Romania's SEECP presidency is an opportunity to promote the spirit of regional cooperation, one of the reasons for Kosovo's invitation to the works of the structure.
"This means an inclusive approach for all the actors in the region and, in this context, what is more important is the historic agreement signed by Belgrade and Pristina and I remind you that, in this context, Belgrade agreed with involving Kosovo in the regional cooperation processes. And this is an important thing" Corlatean underlined in a press conference.
"On the other hand, this corresponds to a fundamental interest constantly expressed by Romania, namely the enlargement process, of European integration of all the Balkan's space" the Romanian foreign minister underlined.
Romania's strong denial of recognizing Kosovo's independence has started losing vigor lately after a serious of recent statements in this regard made by the government in Bucharest. After a vote in the European Parliament on 18 April in which a resolution called on all the EU member states to recognize Kosovo's independence, PM Victor Ponta said Romania should join the rest of the European family in this concern. Romania, Spain, Greece, Slovakia and Cyprus are the sole European countries not to recognize the new state in the Balkans.
But the EU brokered agreement between Serbia and Kosovo paves the way for Romania's recognition of Kosovo, several officials in Bucharest said, suggesting a decision in this regard could be passed by the Parliament in Bucharest this fall.