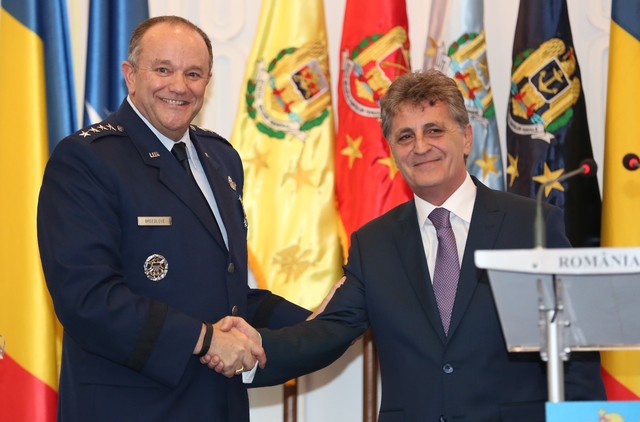 Bucharest, April 3, 2015/ Independent Balkan News Agency
By Daniel Stroe
Romanian officials unanimously dismissed a warning coming from Moscow following NATO's announcement this week it is about to decide on relocating heavy weaponry on Romanian soil, with Bucharest saying it doesn't feel intimidated by the Russian tough rhetoric.
A few days ago, while on a visit to Romania, US four-star General Philip Breedlove, the Supreme Allied Commander in Europe, said in a joint press conference with the Romanian Defense minister Mircea Dusa (photo) that NATO is to make a decision soon as to whether to transfer heavy weaponry in Romania as part of its broad response to the Russian aggression in Ukraine. "Yes, this decision will be soon taken. I am sure that when this happens, Romania will answer promptly, as it has always done, and will agree with the pre-positioning of these techniques, since it has always been a trustworthy NATO partner", Breedlove said.
Yesterday, a spokesman for the Russian Ministry of Foreign Affairs warned Romania over the planned deployment of heavy weapons, replying to a question posed by the Moscow correspondent of Romania's state radio. "If Romania's leadership thinks it can increase NATO's presence on its territory, including by creating a powerful military force, then it will have to be aware of the implications of this measure", Aleksandr Lukashevich said as quoted by Interfax. He went on to say Russia will heed this planned deployment in Romania when making its further military planning.
Romanian Foreign Ministry was quick to react. "We took note of the statement the Russian Foreign Affairs Ministry spokesman made (…) and what I can tell you very clearly is the fact that these are measures the North-Atlantic Alliance took at the summit in UK, which were then implemented following decisions adopted at NATO foreign affairs and defense ministerial meetings in December and February, respectively, are measures taken for the protection of the allies on the eastern flank, after what happened in Ukraine, in Crimea, namely the illegal occupation of Crimea, following the Russian Federation's support for the pro-Russian separatists in the east of Ukraine," the Romanian Foreign Minister Bogdan Aurescu said today.
These measures of reassurance and protection come "as a reaction to a certain assertive, aggressive attitude of the Russian Federation". "Therefore, the Russian Federation cannot invoke these protection measures of the allies on the eastern flank, which, I reiterate, are reactions to the Russian Federation's attitude in Ukraine, as a justification to address more or less hidden, more or less direct threats to the allies in the eastern flank. Romania does not feel intimidated by these threats," Aurescu stressed.
Last night, PM Victor Ponta gave a short, but telling answer to the Russian official's warning. "A very, very clear answer: yes, we are aware our decisions are the best for us and our partners", he reacted on Twitter.
A number of 11 A-10 Thunderbolt ground-attack aircraft have already been redeployed to an air base in central Romania, along with 350 US personnel.  The troops are to spend three months in Romania to train with the Romanian military. Later this year, an air base in Southern Romania, which will be part of a NATO-led antimissile defense shield, will become fully operational.