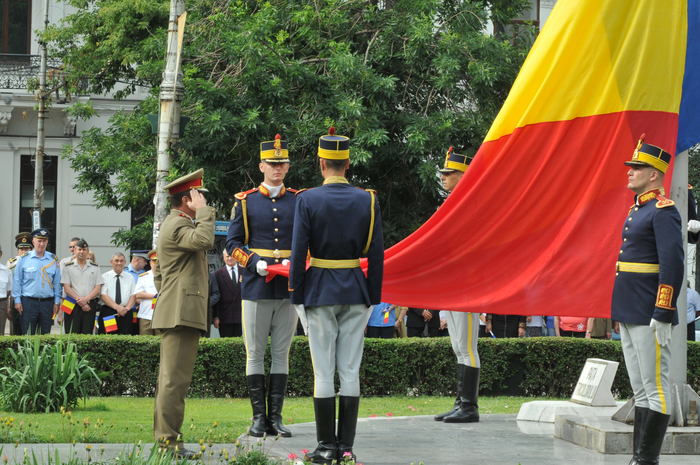 Bucharest, June 27, 2015/ Independent Balkan News Agency
By Daniel Stroe
The largest Romanian national flag – the tricolor – in Harghita County was raised in the county seat of Miercurea Ciuc, with acting Prime Minister Gabriel Oprea and Defense Minister Mircea Dusa attending the ceremony in the so-called Szekelyland, a Hungarian majority inhabited area in central Romania which has seen over times bouts of separatism.
The 28-square meters flag was hoisted on a 22-meters high mast on the premises of Harghita Police County Inspectorate, while the national anthem was being played. Attending the ceremony were around 3,000 people, some of them wearing traditional costumes and holding the Romanian tricolor in their hands, marking the Tricolor's Day.
Interim PM Oprea received the honors from the Guard of Honor and then he addressed the audience, underscoring he was proud to honor the Romanian flag in Miercurea Ciuc, as he stressed the flag "is a symbol of the Romanian state, a national, sovereign and independent, unitary and indivisible state".
"As a military, I have particular respect for the fundamental values of the Romanian state and you know me, I will never hesitate to assert that the national interest unites a people and gives force to a nation. By honoring the national symbols, we keep our energy as a nation alive, because it is from here that we draw our power to overcome the hardships and move on. The current geopolitical context, the external challenges Romania must face are as many reasons for each of us to prove today our attachment to the national values", the caretaker head of Government said, as quoted by Agerpres.
The acting PM congratulated Harghita policemen for the move to hoist the largest flag in the county and thanked the institutions that have made such an event possible.
In his turn, Defence Minister Dusa stressed the national symbols are special values for the military and each of us must respect these symbols. Bishop Andrei Moldovan of Covasna and Harghita, who blessed the flag late on Thursday, said that for the county residents, this day was "like a holy Easter Day".
The ceremony ended in an honor parade by units of the army, gendarmerie, police, fire brigade and Cluj-based police agents' school. The largest tricolor in Harghita so far measured 24 sq. m and was raised at Tulghes last year.
Szekelyland has been the ground of a massive movement promoting cultural autonomy, but in time this made way to aggressive separatist waves led by Hungarian minority representing far right parties, straining ties with the central Government in Romania. A series of violent demonstrations a few years ago, during marches of ultra-nationalistic Hungarian parties, prompted Romania to blacklist Hungarian officials, such as Vona Gabor, leader of the far right Jobbik Party, and ban them from entering Romania.