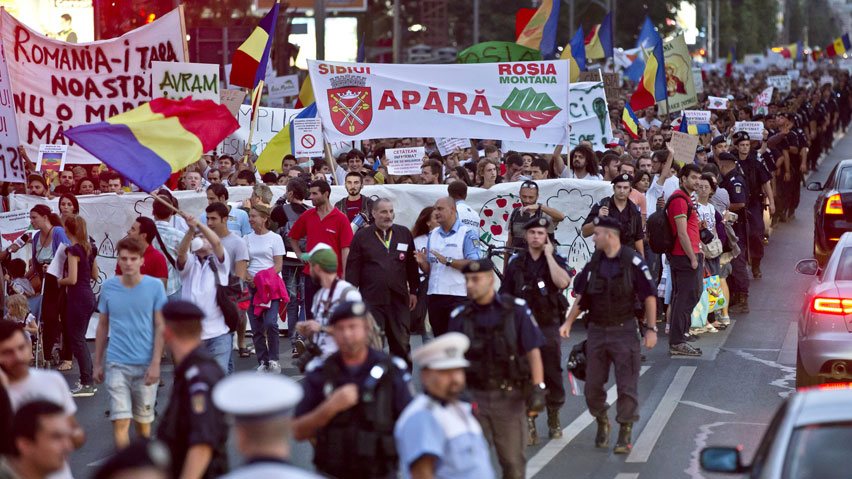 By Daniel Stroe – Bucharest
The Romanian PM Victor Ponta yesterday said he has information that foreign interests seek to prevent Romania from re-starting its mining sector and becoming energy independent in a moment when the political class remains deadlocked in a debate whether the gold mining project at Rosia Montana should go on amid widespread street protests.
"There is an economic war which folded on some goodwill and normal manifestations (the street protests) and which comes, based on the information I received, from two directions: there are certainly economic interests outside Romania that Romania will not re-open its overall mining sector – and I am not talking about only gold mining, but mining in general – and that Romania will not become economically independent as concerns the gas production" Ponta said as quoted by Romania TV.
"It is normal, who around us wants us to have our own gas, not to import it anymore and who wants us to have important natural resources? I don't think anyone really wants that and there certainly is this kind of influence" the head of the Romanian government added.
In the same context, former PM Mihai Razvan Ungureanu, who was also head of the Romanian foreign intelligence service (SIE), said Romania's energy independence is a perspective which ruffles many feathers. "I want to clarify that if we get to attain energy independence, Romania will have a guaranteed source of economic prosperity. There are many interests that seek to block Romania's energy independence" he pointed out, speaking for daily Evenimentul Zilei.
The above-mentioned newspaper speculated that the American billionaire George Soros is behind the protests against the gold mining project at Rosia Montana since he himself is interested in taking over the exploitation site. To this end, he finances protests to sabotage the Canadian company Gabriel Resources.
At the same time, this spring, when the anti-shale gas protests reached a climax, the Romania media reported Russia may be behind the street demonstrations by financing the environmental NGOs that show opposition to such extractions. The media cited a report by CSIS, an American strategic studies center, which concluded many of the anti-shale gas protests in Eastern Europe are backed by Russia which see in these projects a huge menace to its influence in the region.
Romania has shale gas reserves of about 1,444 billion cubic meters, the third largest in Europe, which, judging by the average annual consumption of 14 billion cubic meters, can ensure the country's gas autonomy for about a 100 years, reveals a recent report of the US Energy Information Agency (EIA).