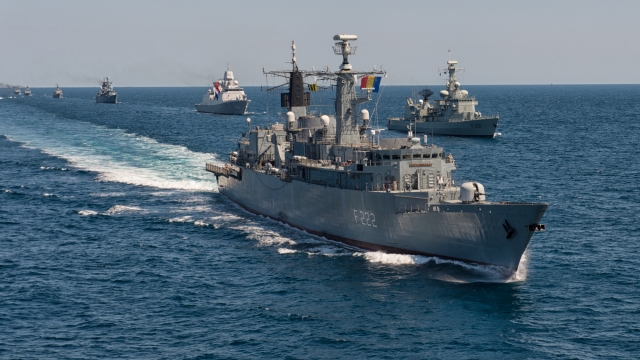 Bucharest, October 7, 2016/Independent Balkan News Agency
An air and navy live fire exercise is scheduled for Monday morning in the Black Sea, to be staged by five Romanian military ships of the Fleet Command and France's Le Premier-Maître L'Her (F 792) frigate.
Press Officer with the Fleet Command Ion Burghisan says the Le Premier-Maître L'Her frigate moored in the Constanta port on Friday morning for a three-day stopover.
"While the ship is moored in the port, a delegation headed by the commander will pay courtesy visits to local officials and the fleet command, while the crew is scheduled to tour the main cultural and tourist attractions of the city of Constanta, while on October 10, the last day of the visit, the French frigate will take part in an air and navy live fire exercise along with five Romanian military ships," Burghisan said Friday.
Le Premier-Maître L'Her will join Romania's Regele Ferdinand frigate (which has a helicopter aboard), two corvettes, two missile-bearing ships and three MIG 21 Lancer aircraft of the Romanian Air Force, in what is said to be a very complex exercise that allows the crews to train in air, surface and submarine combat.
Le Premier-Maître L'Her was commissioned on December 5, 1981. It is a D'Estienne d'Orves-class aviso, also known as the A69 type aviso, according to the standards of the French National Navy that classifies it as a patrol vessel. With a displacement of 1,100t, a length of 80.5 m, a 10.3-m beam, and a 5.6-m draught, the frigate is commanded by Lieutenant Nicolas de Bouvet. It has a crew of seven commissioned officers, 58 warrant officers and 24 sailors.
Moving the frigate are two SEMT Pielstick 12,000 HP diesel engines that provide a maximum cruising speed of 24 knots, capable of using four Exocet anti-ship missiles in combat, along with a SIMBAD-RC short-range, anti-air self defence system deploying two fire-and-forget MISTRAL missiles, a 100-mm naval gun, two 20-mm naval guns, four 12-mm machine guns and four 550-mm torpedo tubes.
Source: Agerpres