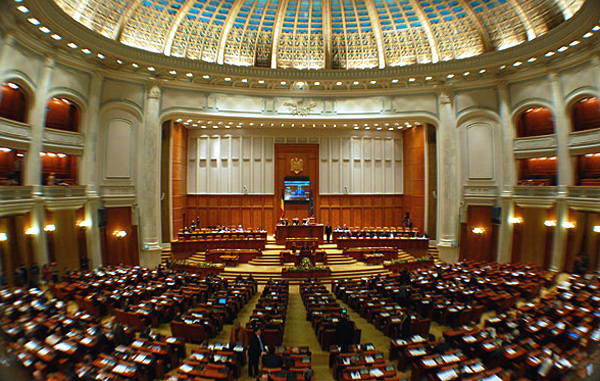 By Daniel Stroe – Bucharest
Romanian politicians distanced themselves from a document leaked by the Romanian media which shows the social-democrat led Government is looking into the possibility to scrap the flat tax rate in force for ten years and introduce in return a progressive one.
The document which was disclosed by Mediafax contains several fiscal measures forwarded by the Budget Minister, among which the proposal to "introduce progressive tax on personal income as of 2016 with three progressive rates – 15 %, 25 % and 35 %". The progressive tax rate is one of the effective means to cover gaps in the state budget, the document also reads.
"How come you discovered this just tonight?" Romanian PM Victor Ponta, and a candidate in this Sunday presidential runoff, reacted last night, when shown the document, looking visibly angered by the journalists' discovery days before the second round. In her turn, Ioana Petrescu, Minister of Finance, denied such simulations have ever taken place and pointed out she disagrees with scrapping the flat tax rate.
The Budget Minister, Darius Valcov, who apparently made the proposal, refused to recognize the existence of this document, saying the proposal doesn't originate in his ministry. Asked if he would resign if the document is proven to have been drawn up in his ministry, Valcov said he cannot be held responsible for all the employees in the institution, suggesting the document may have been written without his knowledge which is unrealistic.
The 16 per cent flat tax was introduced in 2005 to draw foreign investments and replaced the incremental tax rates in five stages from 18 to 40 per cent. Ponta's government hinted in the past he seeks to scrap the flat tax, but economic analysts said that any such increase will scare away investors, already in smaller numbers.
The above-mentioned document also features a proposal which allows for a hike of 25 per cent of the tax on property as of 2015 and another 25 % starting 2016, a measure previously envisaged and supported by the National Bank.
The renewed discussions on hiking such taxes and the introduction of a progressive tax on personal income come as the Government seeks ways to cover a gap generated by the decision to cut the social insurance contributions for employers by 5 per cent. If such ways aren't found, the IMF and the European Commission may ask the Romanian Government to only cut the contribution by 2.5 per cent. As the presidential campaign has been sprinkled with electoral promises, IMF warned Romania a few days ago to stick to its financial commitments and not risk a fiscal debauchery shortly before concluding the last stand-by agreement with the Fund.