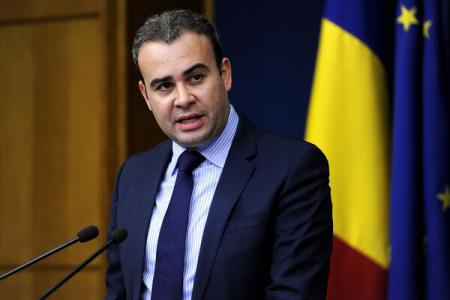 Bucharest, December 19, 2014/ Independent Balkan News Agency
By Daniel Stroe
Romania's newly installed Finance minister, Darius Valcov (photo), has voiced hopes the country's economic growth next year will be more than 3 per cent, while revenues to state budget will go beyond the current prognosis which he says will favor a cut of VAT.
"I don't believe in a 2.5% economic growth for next year because I cannot believe in a below 3% economic growth. I strongly believe we will have revenues beyond the prognosis. I am relying (…) on ANAF's activity (Romania's revenue service) and an economic growth beyond the prognosis", Valcov said as the lawmakers started debates on the 2015 draft budget.
But despite Valcov's optimism, next year's state budget revenues remains a thorny issue Romanian authorities and the joint delegation of the International Monetary Fund and the European Commission have not yet agreed upon and will be probably resumed in January when the international creditors return. The draft budget therefore stipulates a prudent level for next year's revenues which can be anytime adjusted, depending on the fiscal performance over the first part of the year.
But, according to state news wire Agerpres, supplementary revenues over the first half of 2015 could be used to either cut down VAT for the second half of the year or a definite cut of the VAT or a VAT decrease for certain products, such as meat, vegetables and fruits.
"If we have an extra 4 billion lei in the first semester (about 900,000 Euros), my option is to operate an overall reduction of the VAT, but the decision is up for the Government to take. The PM has the final say, I will have to convince him", Valcov pointed out.
If the extra revenues are smaller, the minister added pointing to 1 billion lei (about 220,000 Euros), then a VAT decrease for meat for the second semester could be considered. A VAT decrease for meat from 24 to 9 % could have a financial impact of 1.6 billion lei (357,000 Euros) per year and for vegetables – 0.9 billion lei (about 200,000 Euros) for a year. But no decision on VAT decrease can be announced before April-May, until data for the first quarter is centralized.
If the VAT is overall reduced, the financial impact will be assessed at 2.2 billion lei (almost 500,000 Euros) per year per every per cent. In September 2013, the Government cut the VAT for bread to 9 per cent and authorities announced in July the fiscal evasion in the bread making industry was down by more than 10 per cent following this fiscal move.