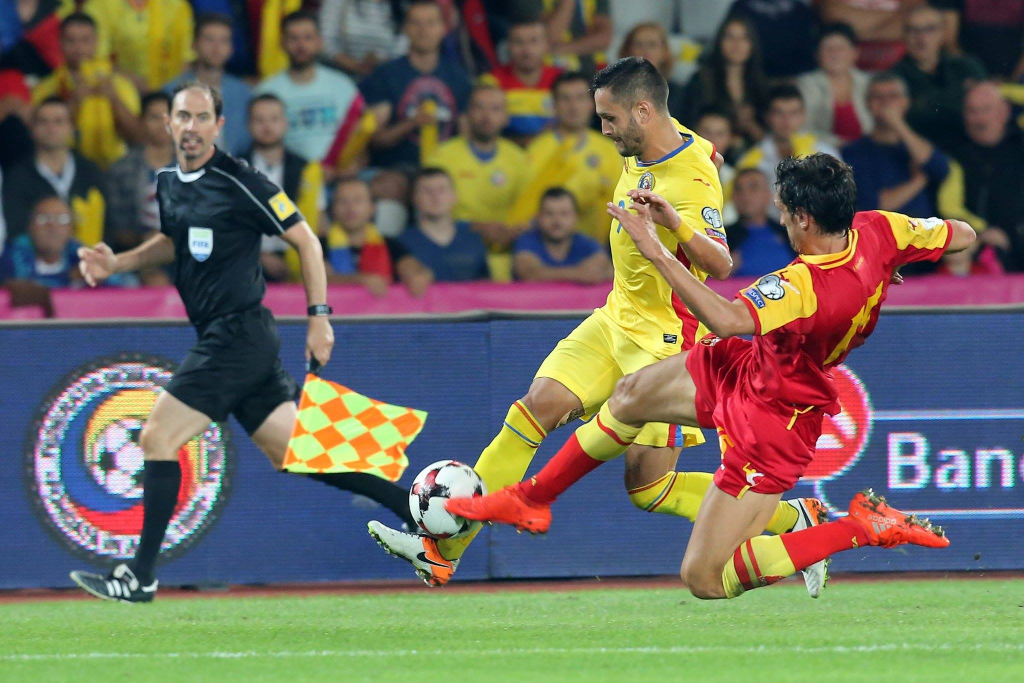 Bucharest, September 5, 2016/Independent Balkan News Agency
Romania and Montenegro on Sunday evening ended their first 2018 FIFA World Cup qualifier in a tie, 1-1 (0-0). They played at Cluj Arena of Cluj-Napoca.
Romania were very close to getting a win in their first match coached by German Christoph Daum, but Nicolae Stanciu failed to score a penalty kick in the last seconds of overtime. Adrian Popa (85) had scored first, but the Montenegro equalised thanked to Stevan Jovetic (87).
After a less spectacular first half, Romania dominated the second one, but they failed to build goal scoring opportunities.
The guests got the biggest opportunity in minute 5, when Beciraj managed to sprint to the posts untackled, but Pantilimon did an excellent job of blocking the player off.
Romania responded with Sapunaru (7) side-netting an angle shooting. Beciraj (17) shot the ball over the posts from 17 m. The best goal scoring opportunity for Romania came from (21), but his shooting was deflected by Bozovic. Montenegro's best ball possession was in the first half, but the game was generally balanced.
In the second half, Romania took the lead, putting pressure on Montenegro, with Stanciu (47) shooting over the posts from outside the box. It was Stanciu again to test Bozovic (62) with a 25-m free kick, but Montenegro's goalie deflected the ball to the corner.
Another notable opportunity for Romania came in minute 72, after a corner kick, when Moti and Stanciu deflected the ball dangerously before the posts.
Romania managed to open the score in minute 85 thanks to the newly introduced Adrian Popa, who scored a back shooting from Stanciu.
Their joy was shortened by Jovetic equalising for Montenegro in minute 87 with a header from a free kick executed by Kojasevic.
Romania wasted the chance of winning three points when Keseru was faulted by Vukcevic in overtime but Stanciu, overwhelmed by pressure, shot the penalty kick past the posts.
Romania started the qualifying campaign for 2018 FIFA World Cup on the wrong foot, under the management of his first ever foreign manager, who surprised many by lining up Benzar and Bicfalvi, with only Benzar confirming the trust placed in him.
In the other Group E qualifiers on Sunday, Denmark defeated Armenia, 1-0, and Kazakhstan drew Poland 2-2.
The next group qualifiers are scheduled for October 8: Armenia v Romania, Montenegro v Kazakhstan and Poland v Denmark.
Romania — Montenegro 1-1 (0-0)
Scorers: Adrian Popa (85), Stevan Jovetic (87).
Nicolae Stanciu failed to score a penalty kick (90+7).
Cluj-Napoca, Cluj Arena: 25,468 spectators
Group E 2018 World Cup qualifier
Line-ups:
Romania: 1. Costel Pantilimon — 6. Romario Benzar, 4. Cosmin Moti, 21. Dragos Grigore (skipper), 3. Steliano Filip — 5. Ovidiu Hoban, 22. Cristian Sapunaru — 17. Eric Bicfalvi (8. Adrian Popa, 76), 19. Bogdan Stancu (13. Claudiu Keseru, 90), 23. Nicolae Stanciu — 9. Florin Andone (11. Gabriel Torje, 70). Coach: Christoph Daum.
Unused substitutes: 12. Cristian Balgradean, 16. Silviu Lung Jr — 2. Alexandru Matel, 7. Alexandru Chipciu, 10. Alexandru Maxim, 14. Razvan Marin, 15. Valerica Gaman, 18. Dorin Rotariu, 20. Gabriel Enache.
Montenegro: 1. Mladen Bozovic — 6. Zarko Tomasevic, 15. Stefan Savic, 22. Marko Simic, 4. Nikola Vukcevic — 23. Adam Marusic, 7. Marko Vesovic (16. Damir Kojasevic, 80), 19. Aleksandar Scekic, 8. Marko Bakic (9. Stefan Mugosa, 68) — 10. Stevan Jovetic (skipper) — 11. Fatos Beciraj (20. Nemanja Nikolic, 90+2). Coach: Ljubisa Tumbakovic.
Unused substitutes: 12. Milan Mijatovic, 13. Danijel Petkovic — 2. Aleksandar Sofranac, 3. Vladimir Rodic, 5. Nemanja Mijuskovic, 14. Risto Radunovic, 17. Elsad Zverotic, 18. Vladimir Boljevic, 21. Filip Raicevic.
Referee: Anthony Taylor; assistant referees: Stephen Child, Stuart Burt; fourth official: Andre Marriner
UEFA delegate: Dennis Cruise (Ireland), UEFA referee observer: Johannes Reijgwart (Netherlands)
Yellow cards: Simic (31), Moti (41), Andone (48), Jovetic (88).
Source: Agerpres