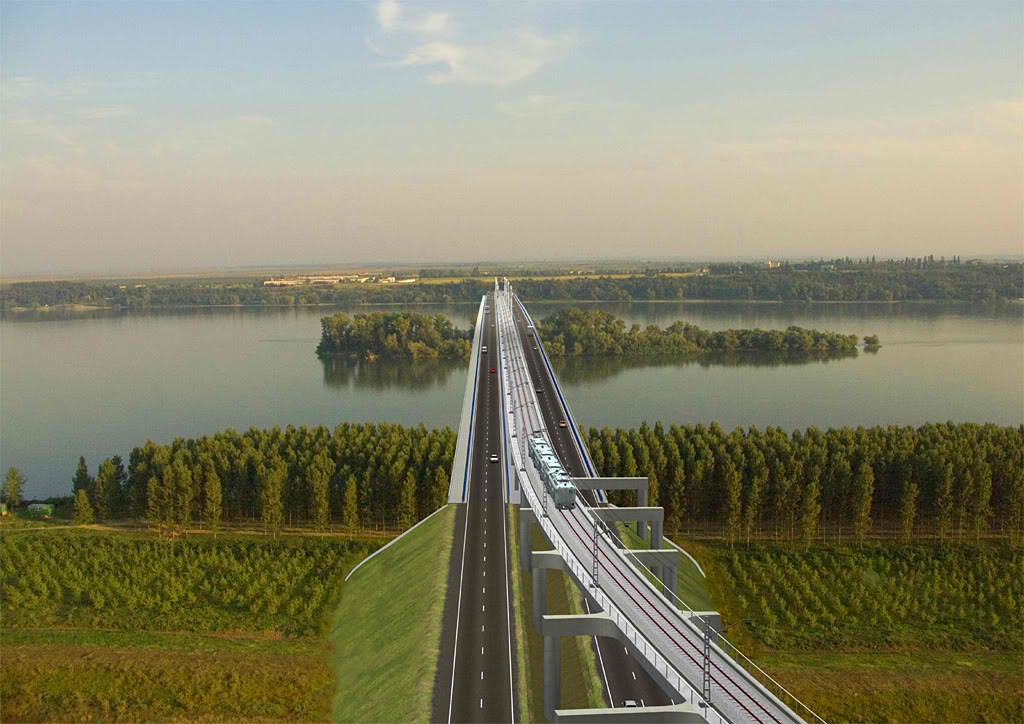 By Daniel Stroe – Bucharest
Romanian, Bulgarian and European officials today inaugurated the second bridge over Danube linking the two neighboring countries, more than a century after the project was tabled for the first time.
Romanian PM Victor Ponta, his Bulgarian counterpart, Plamen Oresharsky, the Bulgarian President Rosen Plevneliev and the European commissioner for Regional Policy, Johannes Hahn, attended the inauguration ceremony of the bridge which connects the Romanian town of Calafat and Vidin, on the Bulgarian bank.
The bridge, whose construction agreement was signed all the way back in 2000, is part of the Pan-European transport corridor which links the cities of Dresda in Germany and Istanbul in Turkey.
The costs of the construction went beyond the initially planned 225 million Euros to over 255 million Euros, part of the money coming from EU's Cohesion Fund. A mixed Romanian-Bulgarian company based in Vidin will handle the tax collecting operations and the exploitation of the bridge.
On Wednesday, the Romanian and Bulgarian governments approved the bridge crossing taxes, varying from 6 to 37 Euros for different type of vehicles. Pedestrians, bicyclists and emergency vehicles are exempt from paying such taxes. About 415.000 vehicles are assessed to cross the bridge within the first year.
The bridge, which is two kilometer long, making it the longest bridge spanning Danube, has two auto lanes on each way, two sidewalks, a railway and a bike lane. One the bridge becoming functional, Romania and Bulgaria also agreed to open a new border checkpoint which will oversee road, rail and fluvial traffic. The Romanian border police will handle the passengers and road transported merchandise while the Bulgarians will see to the rail checks.
Romanian transporters and tourists from South-East Romania driving to Greece hailed the opening of the new bridge which shortcuts their journey to the South. Until today, only one bridge operated along the 470 kilometers fluvial border between the two countries, the Giurgiu-Ruse bridge, opened in 1954.
Meeting at the 18th summit of the Central Europe head of states, in Bratislava, Romanian President Traian Basescu and Bulgarian counterpart Rosen Plevneliev agreed the two countries start seeking financial solutions for building a third bridge over Danube, linking Calarasi and Silistra.