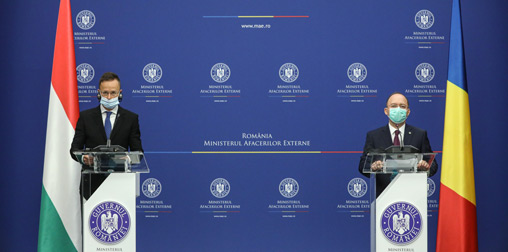 Romanian Foreign Minister Bogdan Aurescu received Hungarian Foreign and Trade Minister Péter Szijjártá in Bucharest on Tuesday, 26 May 2020.
Wrapping up today's meeting with his Hungarian counterpart Peter Szijjarto, Foreign Minister Bogdan Aurescu said during a joint interview that it was necessary to restore the "climate of trust and mutual respect" in the Romanian-Hungarian relations, while calling for "restraint and a sharp sense of judgement".
"Romania is deeply interested in leaving behind the tactics of of provocation and confrontation, and we propose to create the conditions for the formation of a Romanian-Hungarian European, civilized, modern, realistic relationship. We need to restore a climate of trust and mutual respect in our bilateral relations. We have a very good relationship that we built a long time ago, so that we can give our bilateral relations the right course for our strategic partnership. We want a positive approach to our relations with Hungary as good neighbors, and to act together on the principles of the 1996 Political Treaty and the Declaration of Strategic Partnership between Romania and Hungary for a 21st Century Europe, 2002. That is why we called for restraint, and we ask – especially in the current context, which is characterized by the detrimental effects of the COVID-19 crisis, which affects all citizens of our States – to fully participate in building a good neighborly relationship and a real corporate strategy", said Foreign Minister Bogdan Aurescu.
Romania's Foreign Minister underlined that he had a  "thorougly substantial" discussion on bilateral relations. He added that "despite the recent tensions in the country", the Romanian Foreign Minister "avoided reacting" in an effort to de-escalate the situation.
At the same time, Minister Aurescu stressed that "the logic of the partnership avoids escalation at all costs, and especially at critical moments." "This is a visit that takes place at a sensitive time in this bilateral relationship and, as I confessed to the Minister, I was initially reluctant to organize this visit now, because we are ten days away from the day of the Trianon Treaty of June 4, which has different meanings for Romania and Hungary, and recently there have been a number of heated moments in our bilateral relations, while we are also experiencing extraordinary times, namely the state of alarm in Romania", Aurescu said.
I would prefer this visit had taken place after 4 June, because it is a specific framework, and it is necessary to prepare well for such a visit.
However, I called on my colleague in Bucharest because Romania sincerely wants to return to a real strategic partnership with Hungary and because the Romanian side's expectations regarding bilateral relations should be communicated directly and honestly between real partners, the Minister of Foreign Affairs concluded. /ibna