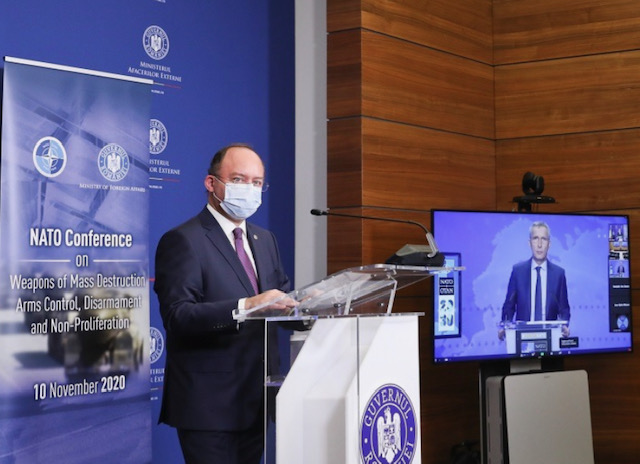 Romanian Foreign Minister Bogdan Aurescu, along with NATO Secretary-General Jens Stoltenberg kicked off the annual NATO Conference on Arms Control, Disarmament and Non-Proliferation, held on Tuesday 10 November 2020 in hybrid digital form.
The event was organized by the Romanian Ministry of Foreign Affairs in co-operation with NATO's International Secretariat, and aims to mark the 50th anniversary of the entry into force of the Treaty on the Non-Proliferation of Nuclear Weapons, before the next 2021 Treaty Review Conference.
In his speech, the Romanian Foreign Minister stressed that the organization of this event by Romania reflects the country's strong commitment to NATO, as well as the current international architecture for arms control, disarmament and non-proliferation. At the same time, referring to the growing threats to international security, the Romanian Minister reiterated Romania's support for effective multilateralism and international co-operation, and called for progress in all aspects of arms control, disarmament and nuclear non-proliferation in order to strengthen global security.
In this context, Minister Bogdan Aurescu reaffirmed Romania's strong belief that the Treaty on the Non-Proliferation of Nuclear Weapons, which entered into force on 5 March 50 years ago, embodies the foundation of the nuclear disarmament architecture and non-proliferation and the promotion of peaceful uses of nuclear energy.
It thus reaffirmed Romania's commitment to abide by and ensure the integrity of the Treaty. "Together with its allies and partners, Romania remains deeply committed to the full observance and implementation, in word and spirit, of existing agreements on arms control, disarmament and non-proliferation", Minister Aurescu said.
The Romanian Minister called for joint responsibility and efforts to strengthen the implementation of the Non-Proliferation Treaty, including the preparation of the 2021 Treaty Review Conference, stating that "at a time of growing threats, we need an integrated approach to proliferation and security threats now more than ever".
In this context, he cited as a concrete national contribution to support some of the positive results of the next Evaluation Conference the co-chairmanship from Romania, through the Romanian Minister of Foreign Affairs, of the International Conference on Nuclear (ICONS 2020) between 10 and 14 February 2020 in Vienna, which reaffirmed the objectives of the Treaty on the Non-Proliferation of Nuclear Weapons: Nuclear Non-Proliferation, Nuclear Disarmament and the Peaceful Use of Nuclear Energy
NATO Secretary General Jens Stoltenberg thanked the Romanian Foreign Minister for the co-organization and organization of the event by Romania, amid extraordinary circumstances. The main message of the senior NATO official focused on the need to prioritize the aspects of arms control and disarmament in a balanced, reciprocal and verifiable manner. "At a time when threats to our security are more complex and unpredictable than ever, we need a strong nuclear deterrent combined with effective arms control to maintain our peace and freedom", the NATO SG stressed during the conference hosted by Romania. /ibna