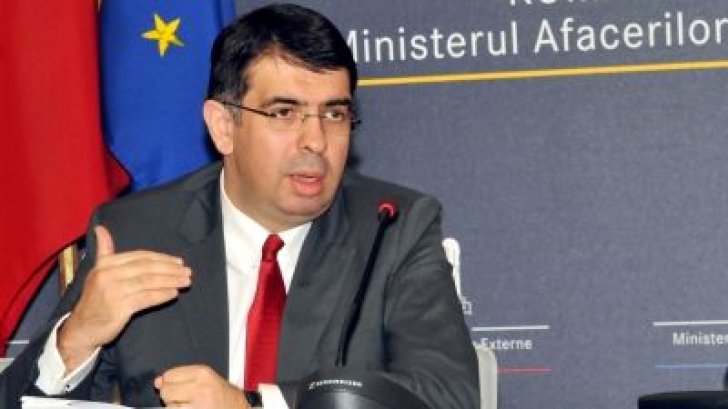 By Daniel Stroe – Bucharest
Romanian PM Victor Ponta has appointed Robert Cazanciuc as the new minister of Justice, a job which was vacated about a month ago when the previous minister Mona Pivniceru chose a seat in the country's highest court.
Cazanciuc, a prosecutor by training and secretary-general of the Ministry of Foreign Affairs before being nominated for the new post, has to also receive the blessing of President Traian Basescu, Ponta's main political rival. Ponta underlined the two had discussed and then agreed with Cazanciuc's designation.
Ponta said he hoped Cazanciuc's nomination would bring some balance in the relation of the Ministry of Justice with other judicial institutions and, mainly, with the European Commission which has kept a close eye on the Romanian justice ever since Romania joined EU in 2007. The communitarian executive monitors progress Romanian justice makes through the Cooperation and Verification Mechanism (CVM) which also envisages Bulgaria.
Actually, the poor fight against corruption in the two countries has been at the roots of some Western states' refusal to allow the new EU member states into the Schengen Area. The next CVM report due in December are crucial for the two's ambitions to be admitted into the borderless space which makes the new minister's mission difficult enough.
The behind the doors negotiations for filling the vacant job at the helm of the Ministry of Justice revealed new rifts between Ponta's social-democrats and the liberals, the ruling partners. The portfolio was supposed to revert to the liberals, according to the coalition agreement, but the latter gave it up amid dissatisfaction with Ponta's nominations for the country's top prosecutors. Ponta held the interim job of minister of Justice and in this position could make nominations which liberals disagreed with.
Yesterday, the European Commission warned the procedure it recommended for the nomination of the country's top prosecutors – the prosecutor-general and the head of the National Anti-Corruption Department (DNA) – has not been followed by the Romanian government, a new warning Brussels keeps a close eye on the Romanian justice.
The Romanian media revealed both Cazanciuc and Ponta graduated from the Law School in the same year. Ponta apparently favored someone else for the vacant job, namely Horia Georgescu, secretary-general of the National Integrity Agency (ANI), a body tasked with checking politicians and high ranking officials' assets and which has gained praise from the European Union. But the liberals firmly rejected Ponta's initial proposal.