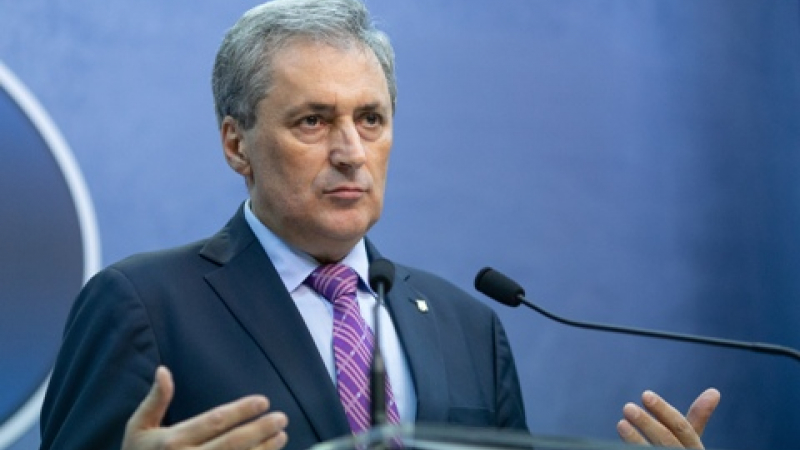 An extraordinary meeting was held Sunday evening between Romanian Prime Minister Ludovic Orban, Interior Minister Marcel Vela, Health Minister Nelu Tătaru and Interior deputy Ministers Bogdan Despescu and Raed Arafat, on the 4th Military State of Emergency Ordinance.
During a press conference following the extraordinary meeting, Interior Minister Marcel Vela and the two Undersecretaries of the Interior said the 4th Military Ordinance stipulates that persons over 65 years of age could solve their medical problems throughout the day. "We have made it clear about the transportation of people over 65 that they can also resolve medical problems such as scheduled oncology treatments, dialysis, via transportation by their own means or their families, or through specialist transportation services, can be done at regular intervals also after 1 pm and before 11am, that is, throughout the day", Vela noted.
It also stated that this military ordinance permits these persons (over 65 years of age) to leave their home or household to meet the needs of pets between 20:00 and 21:00. "Going out for this purpose and at this time do not require a written statement", the interior minister said.
Marcel Vela added that the military ordinance specified the conditions under which persons over 65 years of age could be supported by economic operators conducting commercial activities approved by prior decrees, such as the sale of hygiene products, essentials or foodstuffs. Thus, economic operators must facilitate, between 11.00 and 13.00, access to commercial premises for persons over 65 years of age.
Interior Minister Marcel Vela also announced that electricity and heating, gas, water, sanitation and fuel prices could no longer rise during the state of emergency, starting on the date of publication in the Government Gazette of the 4th Military Ordinance.
In addition, Vela announced that the 4th Military Decree stipulates that those who violate the isolation rules will be quarantined and will be burdened with all costs. He also said that those who do not comply with the quarantine and are located outside the area provided by law will be quarantined for another 14 days and will bear all the costs of the quarantine.
The Military Ordinace also provides for new conditions for truck drivers with a capacity exceeding 2.4 tonnes, pilots and navigational personnel, under the coronavirus pandemic. "Drivers entering the country, driving trucks of more than 2.4 tonnes capacity, have three options to protect their families and themselves. Either their employer would provide them with a place to remain in quarantine but for no more than 14 days, either they would declare that they remain quarantined at home with their family or in another place of residence they own or in quarantine facilities that the local authorities could provide upon request, to ensure the protection of the drivers' families by paying the costs of stay in these hotels", Vela said. He points out that the same conditions should apply to seafarers. Marcel Vela said maritime and inland waterways, access to Romanian ports, as well as inspection and operation of vessels would be carried out without restriction, in line with all contamination prevention measures imposed by the Ministry of Health. "It is forbidden for seafarers to board sea-going vessels and river boats arriving from areas of red or yellow danger unless they have the protective equipment established by the Ministry of Health", the Interior Minister added.
It was also announced that from Tuesday, March 31, local authorities will install disinfectant-containing appliances and take care of the disinfection of stairs, elevators and other public areas.
"In order to support the Media, we have envisaged messages to the public (…) that could be broadcast and added as additional time in the space available for advertising, so as not to affect the revenue and financial resources that the Media receive from RAC's approved advertising agencies", the Interior Minister said.
Undersecretary of State for Home Affairs Bogdan Despescu said Sunday night that a draft emergency decree has already been completed, and has already been subjected to a transparent decision-making process, which provides for fines for persons who do not comply with the emergency measures. "The fines for those who do not comply with the military orders are being increased and will have the following values: from 2,000 lei up to 20,000 lei, against 100 lei up to 5,000 lei, which is currently in force", said the interior minister.
He added that the fines would be increased for legal entities who violate legal provisions during the state of emergency period. "The minimum fine for legal entities not complying with the rules stipulated in the military ordinance has been increased from 1,000 lei, as it is today, to 10,000 lei. The maximum fine for legal entities remains at 70,000 lei. In addition, the article on penalties introduces a new paragraph which states that in addition to the primary punishment for an offense, depending on the nature and seriousness of the offense, one or more of the following additional penalties provided for by military provisions are added: confiscation of goods intended for, used or resulting from the infringement, prohibition of access to the relevant goods by the application of the seal by authorized bodies, temporary suspension of activities, and suspension of certain works", the Deputy Secretary of State said.
In addition, Despescu said that "deviations from the applicable legal rules will not be tolerated. We assure all citizens that we are taking all measures to prevent the spread of this new virus and that we will not tolerate any deviation from the applicable legal rules. I urge you not to provide and disseminate false information, both in relation to the activity of public institutions and to any activity related to efforts to limit the spread of the infection by the new type of coronavirus", the Deputy Minister said.
"I remind you that since March 25, the Ministry of the Interior, through the Romanian police and the Romanian gendarmerie, as well as the municipal police, under the operational management of the Romanian police, as well as the representatives of the Ministry of National Security, ensure the prevention and dissemination measures COVID-19. Concerning the way my colleagues act, I have entrusted the secondary structures to carry out such checks throughout their jurisdiction, not just at certain fixed points, to ensure that all citizens understand the role and importance of these general protection measures", the Ministry of Foreign Affairs official warned./ibna