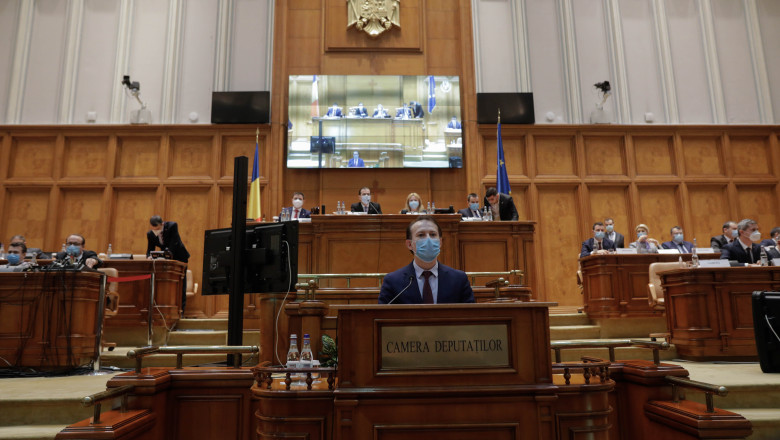 The government of Florin Cîțu received a vote of confidence in the Romanian Parliament early this afternoon, with 260 MEPs voting in favor and 186 against. At 20:00 (local time), the Prime Minister and the Ministers will be sworn in at the Cotroceni Palace, with the first meeting of the Government taking place at 21:30.
"I congratulate you and wish you good luck and a lot of energy and ambition to achieve all the goals and projects you have set for yourself through the government program," Klaus Iohannis told the new ministers.
"Citizens, Romanian citizens, we have promised the restructuring of the state, major reforms in areas such as health, education, major reforms in central public systems, the reduction of bureaucracy, but also short-term goals, effective pandemic control, vaccination rounds, economic development using European funds with prudence and respect for taxpayers. And all this will be delivered. They have to," he said.
"The new parliament, the new government, together with me, with all the state authorities, will do what we promised. We will make the reforms, we will put the economy back on its feet, we will make important changes, all for the benefit of citizens."
"It has been almost two years since we held election campaigns and elections. Now this cycle is over. The cycle in which we are committed and promised is over. Now, at the end of this cycle, I tell you honestly: let's get to work," Iohannis concluded.
The government includes:
Prime Minister – Florin Cîțu,
Vice-Presidents – Dan Barna (USR-PLUS) and Kelemen Hunor (UDMR)
Ministers:
PNL: Finance-Alexandru Nazare, Foreign-Bogdan Aurescu, Defense-Nicolae Ciucă, Energy-Virgil Popescu, Interior-Lucian Bode, Education-Sorin Câmpeanu, Culture-Bogdan Gheorghiu, Agriculture-Adrian Oros, Labor
USR: Justice-Stelian Ion, Health-Vlad Voiculescu, Transport-Cătălin Drulă, European Resources-Cristian Ghinea, Economy-Claudiu Năsui, Research, Innovation, Digitization-Ciprian Teleman
UDMR: Development-Cseke Attila, Environment-Tanczos Barna, Youth and Sports-Novák Eduárd. /ibna