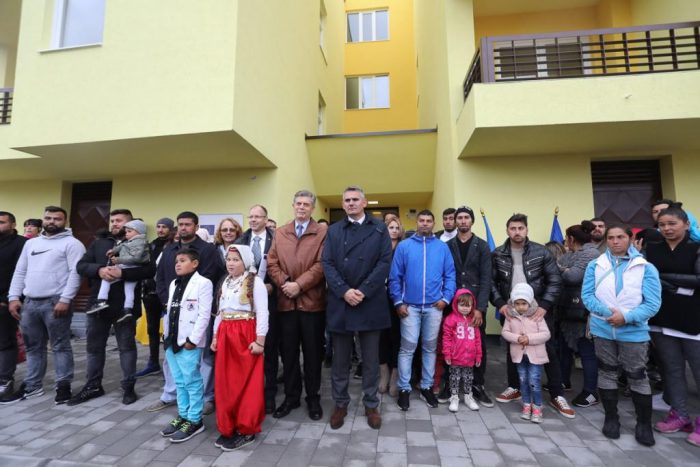 Eighteen Roma families in the Brcko District were given the keys to their new apartments financed by the European Union and co-financed by local authorities.
The building of the eighteen housing units was built as part of the Roma Action II project and EU financed its construction that cost €2.5 million. As it was announced by the EU Delegation to BiH, the project that provides housing for a total of 140 Roma families is being realised in nine municipalities in the territory of BiH.
The Head of the EU Delegation and EU Special Representative in BiH, Ambassador Lars-Gunnar Wigemark, and the Mayor of the Brcko District, Sinisa Milic, gave the apartment keys to the Roma families in the settlement of Novo Brcko, on Tuesday.
"This facility is part of a much larger project, which includes local communities throughout BiH. Construction of houses for Roma families, just like for any other family, is the foundation of integration into society. If you do not have a home, you cannot provide education to your children, it is difficult to maintain a job and you can hardly integrate into the society in order to become a real citizen who contributes to it", said Wigemark at the ceremony.
He stressed that full integration of this population would mean that other aspects such as education, employment and health care are met.
Brcko Mayor, Sinisa Milic, emphasised that the Brcko District of BiH has been making a great effort for the well being of the Roma people.
"We are aware that housing is only part of the solution. Therefore, in the forthcoming period, we will have to work more seriously on the full integration of this population. We are on the way to develop a concept of social housing as a model and a way for providing housing units to all those who need this type of housing. I am sure that we will adopt a law on social housing in the coming period", stressed Milic.
Eldina Aljic, who belongs to the Roma community, thanked the European Union and the Brcko District for securing a roof over her head and her family of three.
"They provided us a better future. So far, I have been living with my mother and father. As of today, my family and I have our own apartment", said Aljic.
The EU Delegation issued a press release where they stressed that, within the first and second phases of the Roma Action Project, the EU provided a total of €5 million, which will significantly improve the living conditions and the socio-economic integration of vulnerable Roma families. The second phase of the project, during which these housing units were built, is being taking place in Tuzla, Gracanica, Banovici, Kakanj, Zavidovici, Zenica, Bijeljina, Modrica and the Brcko District of BiH…/IBNA