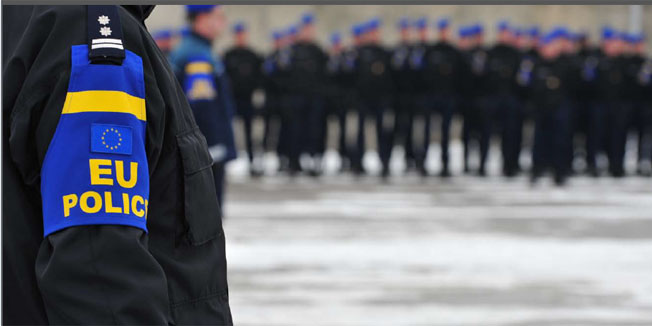 Pristina, March 27, 2014/Independent Balkan News Agency
By Elton Tota
Kosovar authorities are holding intensive talks with officials in Brussels about the new mandate of EULEX mission after June 15.
Based on a draft strategy, the government is claiming that it will take over all executive powers of EULEX and will leave this mission with an advisory mandate.
But, international authorities have warned domestic institutions that the tackling of serious crimes and corruption, the issue of war crimes and the EU role in the north of Kosovo, dictate the need for the continuation of EULEX mandate with executive powers.
The continuation of EULEX mandate is also expected to be discussed in the parliament of Kosovo.
Leader of the Alliance for the Future of Kosovo, Ramush Haradinaj says that his party will agree for the continuation of EULEX mandate in the new transformed form.
"We will back the new commitment between Kosovo and EU for a new form of EULEX in the country, but we want EULEX to also help Kosovo in successfully meeting its goals. Thus, their expertise may be needed by the institutions of the country", said Haradinaj.
Besides the continuation of EULEX mission, another hot topic in the negotiations with the EU is that of the creation of a Tribunal or a special court on alleged war crimes.
This institution would be comprised of international prosecutors and judges and would have two headquarters, one in Pristina and the other one in a European city.
Meanwhile, it's said that this court would deal with cases that relate to the involvement of former members of Kosovo Liberation Army.
Opposition leader and chairman of Democratic League of Kosovo, Isa Mustafa says that besides the mandate and the next format of EULEX, the issue of this Tribunal has also not been detailed.
"I can say that we're still not clear about the Tribunal, its mandate, powers and the period in which it's expected to exert its functions", says Mustafa.
EULEX mandate ends on June 15, but authorities in Brussels say that it's necessary for this mission to continue and work in Kosovo for the next two years, even if it's transformed.
Nevertheless, Pristina and Brussels have not yet reached an agreement in relation to the next format of the mission. The hesitations of the government of Kosovo relate to the EU mission in dealing with war crimes.
EU mission will continue to work in Kosovo for at least another two years, sources declared for IBNA.
According to these sources, this mission will not transfer all executive powers to domestic institutions, like the draft strategy of the government of Kosovo pretends and which has been presented in Brussels by ministers Hajredin Kuci and Bajram Rexhepi. /ibna/