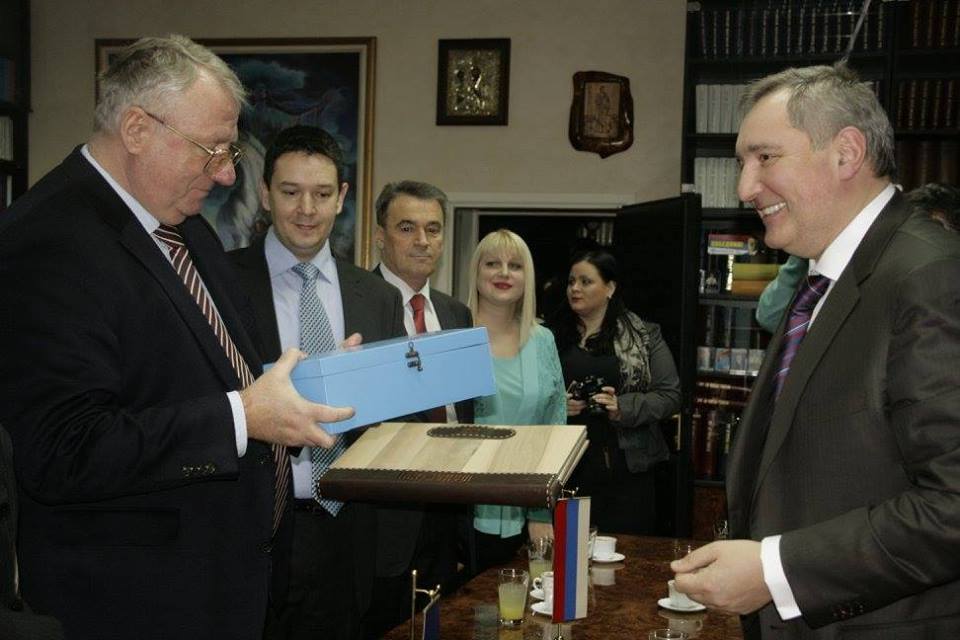 Belgrade, January 12, 2016/Independent Balkan News Agency
By Milos Mitrovic
Croatian purchase of ballistic missiles represents an "attempt to militarize Balkans", Russian Deputy Prime Minister Dmitry Rogozin and Serbian Foreign Minister Ivica Dacic concluded in Belgrade today.
Rogozin, who has arrived on official visit to Serbia on Saturday, said that the possibility of Serbia obtaining defence weapons "is its internal issue".
Dacic and Rogozin are co-presidents of the Serbian-Russian intergovernmental committee for trade, economic, scientific and technical cooperation. The 14th meeting of the committee was held in Belgrade today.
Russia cannot regard "with any optimism" on attempts to militarize Balkans, Rogozin commented on Croatia's decision to by ballistic missiles from United States. "I cannot avoid to support the position of Ivica Dacic in that regard. If the range of ballistic missiles is 300 kilometers, then what is their objective", Rogozin asked.
In his words, US often sells its old weapons to other states and "this could be the point of Croatian armament". "But, if there's some other objective of Zagreb, who is, then, their target? Serbia does not need offensive weapons, but rather defensive ones and we cannot keep out of it", Rogozin said.
Earlier today, in the interview for Sputnik, Rogozin was asked whether it would be possible for Russia to open a military base in Serbia. "This is not an issue for us at all – it's the question for Serbs – what do you think would be necessary to keep you secure", Rogozin answered.
On Monday, Serbian Prime Minister Aleksandar Vucic said that Serbia would not be "an easy target" to anyone and therefore it would improve its military capacities. After meeting with Rogozin, he condemned Croatia's move to obtain ballistic missiles. Vucic suggested that Serbia may obtain defensive weapons from Russia adding, however, that the country cannot "pay the highest price". "It could acquire small quantities of certain weapons", the premier explained.
"The Russian side was fair and concrete by offering us better conditions than it offered to anyone else. The months and years of discussions about it are ahead us", he added. When asked about possible purchasing S-300 anti-ballistic system, Vucic said that it would be too expensive for Serbia.
"We will certainly not have a war against Croatia and conflict with NATO would be especially senseless. Serbia would not invest enormous money in rockets in order to hit Croatia", President Tomislav Nikolic said after meeting with Rogozin on Monday.
Rogozin told Nikolic that 1999 would not ever happen again, alluding to NATO intervention against Serbia, when Russia stayed aside. "We follow the situation in the region very carefully. Now we feel much more secure than before, because our military strength has been improved. I think that Serbia also needs military power", Rogozin said.
Rogozin's meeting with Serbian far right leader Vojislav Seselj on Monday evening came as the surprise for Serbian public. From 2003 to 2014 Seselj was in the International Criminal Tribunal for the former Yugoslavia detention center in The Hague due to allegations for the war crimes in 1990s. In October 2014 he was transfered to Belgrade due to health problems.
"Seselj and Rogozin agreed on all key political issues and concluded that both Serbian Radical Party and Russian government representatives believe that Serbia should intensify its relations with Russia, that Serbs and Russians are brothers and that Serbia's future is in the East", Seselj's non-parliamentary party stated in a press release after the meeting.
Photo: Vojislav Seselj and Dmitry Rogozin