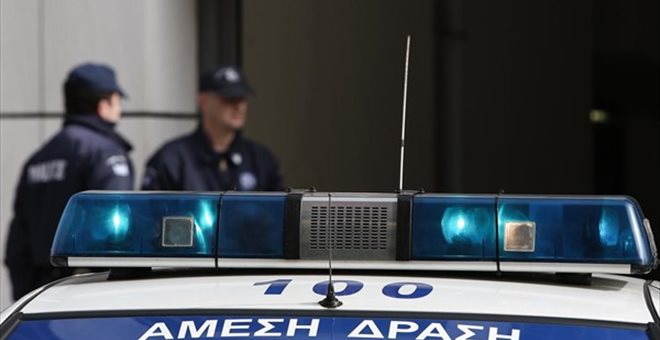 Athens, August 10, 2016/Independent Balkan News Agency
By Spiros Sideris
Around EUR 60,000 is, according to the evidence so far, the amount seized by the four gunmen from the unprecedented robbery at the Piraeus Bank in Ambelokipi, while still unknown remains what they removed from the safety lockers of the branch, which they manage to open during 1,5- hours they remained inside the bank, holding hostage eight employees and five clients.
The police has already studied the bank's security footage, which recorded the movements of bandits and has a pretty clear picture of how they acted.
Two of the four assailants entered the bank first at 14.15, shortly before closing, holding bags, from which they took out what looks like automatic weapons and overpowered the employees and customers, whom they ordered to step away from their posts, which happened without anyone managing to press the alarm button.
Immediately after entered the other two gunmen. All four wore silicone masks with fake faces, which initially were reported to be political entities, something that was later refuted.
The robbers led the attendees in a specific place, with the exception of the Director, who two of them forced to open the safe, waiting patiently for the delay time to pass.
Then they forced her to lead them to the basement, where the safety cases are, and using drills and other tools they carried in their bags, managed to open 21 of them, from which they removed what was inside.
This whole process took more than 1.5 hours, since the robbers left the bank just before 16:00 and only then officials alerted the Police.
Before leaving, the perpetrators of the bank threw disinfectant liquid in all the areas of the bank they had moved, presumably to eliminate genetic material and other traces.
So far it is not clear by what means they fled the bank, that is why the police officers dealing with the case are collecting the video from all cameras in that area, with the hope that they might identify some leads.
They will also study the video from the cameras of the bank in the previous days, as it is very likely that the perpetrators had visited the bank before to plan the robbery.
The police however is perplexed that all this time nothing happened that would have alerted and mobilized the police, as both employees and customers received calls on their mobile phones, during this time, but no one from the outside was worried for not answering.
Customers and employees of the branch were giving their deposition until late Tuesday afternoon at police headquarters in order to elucidate some details of the perpetrators' movements which will aid the investigations.