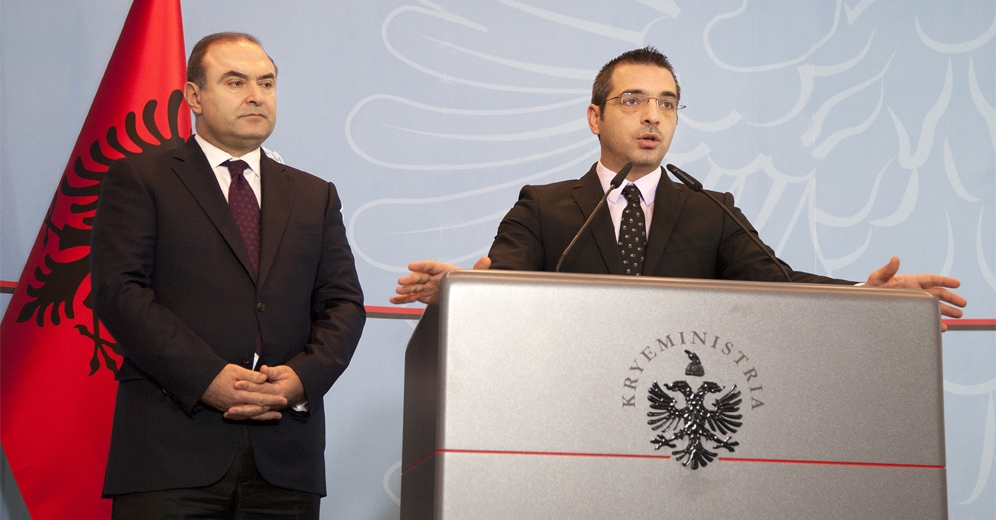 A full analysis on the situation of roads and public transport in Albania. We'll have the opinions of the citizens who face some of the most unpleasant of situations. International experiences in road standards and public transport. We'll also have the insights of ministers Edmond Haxhinasto and Saimir Tahiri
Tirana, February 13, 2014/Independent Balkan News Agency
By Edison Kurani
Minister of Interior, Saimir Tahiri and Minister of Transport and Infrastructure, Edmond Haxhinsto have recently announced a new strategy for the transport in Albania. This strategy comes through a special package of measures on road safety, consisting on legal interventions on the Road Code and on the Penal Code.
These changes come in an effort to stop the growing number of road accidents which have caused many deaths and wounded in the roads of Albania.
Mr. Haxhinasto explained some of the most important changes that this package of measures includes.
The vehicle inspection service, which is mostly controlled by the state, will be liberalized. This will be done in order to prevent corruption. Due to the long queues on these inspection centers, but also due to the fact that often, their vehicles have problems, many people pay from 10 to 50 Euros to the inspectors in order to easily be issued with the inspection certificate.
"We will liberalize the market, in order to improve the vehicle inspection service. We will make the system untouchable from the corruption that exists today and we will introduce new elements of security in the inspection of vehicles", said minister Haxhinasto.
There will also be changes in the driving license test. Haxhinasto says corruption will be stopped even here. "We will have a very concrete methodology, in order for nobody to abuse with those who are able to pass both the practical and theoretical test. Thus, we will end once and for all payments under the table, which are applied even today".
In reality, a few years ago, corruption in obtaining a driving license was well spread. In the theory test, people used to pay 100 Euros in order to pass it. The same thing happens with the practical test too. Several years ago, the last government introduce the electronic testing, which partially stopped corruption.
The new government says that it will introduce a new system which will stop corruption, but no concrete details are given.
In the roads of the country, the cause for a part of the accidents relates to the fact that drivers have obtained fictitious licenses. In an effort to avoid accidents that come from mental problems, the government has decided to introduce a new test. "We will introduce a new test, the psychophysical test. I believe that it's a very important instrument to assess the ability of people who want to pass the test, in order for them not to cause accidents for themselves and for the others", says Mr. Haxhinasto.
Road signs, a responsibility of all governments
10 years ago, when an accident which claimed the lives of 20 people took place, the main problem that was identified was the lack of road signs in national and rural roads.
A few days later, the minister of Transport of that time, Spartak Poci allocated a fund used for the placement of road signs in the national roads of the country.
Today, road signs only partially exist. In many national and rural roads, these signs are missing and this disorientates the residents of these areas and foreign tourists.
Moreover, the lack of road signs is a source of road accidents.
But is the state the only one to be blamed for the lack of road signs? IBNA has observed the national roads that link Tirana to Durres, Tirana to Elbasan and Tirana to Kukes and concluded that in many occasions, residents of these areas are the ones who destroy the road signs. They steal these road signs for a modest gain. The companies which often buy them from ordinary thieves, use them for recycling and other purposes.
In several cases, motorway barriers, such it's the case in the motorway linking Durres to Kukes, are removed in order to gain access to the surrounding villages.
The current government says that it will pay more attention toward the lack of road signs and other safety elements. Haxhinasto says that this year's budget will allocate 6 million USD for road signs and these road signs will be placed in the most dangerous areas, in order to better control traffic in those areas.
Roads without standards and endless fines
In an attempt to collect as much money as possible from road users, Ministry of Interior has engaged a large number of police officers on the road, who penalize citizens for different offenses. Fines start at 7 Euros up to 1500 Euros and lifting of the driving license for up to 2 years. These austere measures have sparked the anger of citizens. Moreover, if these fines are not paid within 5 days, the road user faces a very large penalty. If they try to travel abroad, they are not allowed to cross the border if they haven't paid the fines.
The majority of fines are issued for wrong parking, the seat-belt, incompliance with road signals and excess speed. But, citizens say that the situation on the road is unacceptable and the fines which are issued are unfair. The majority of fines are issued without the presence of the driver.
Adriatic is a 36 year old man living in Tirana. He has been issued several fines, most of which without his knowledge. "I understand that the government wants to fill the treasury with our money, but this is not fair. Roads are ruined, traffic is heavy, roads are very narrow, parking spaces are nonexistent because they are occupied by taxis and police fines you 2 or 3 times a day. It's true that we must abide to the rules, but the state must also be responsible. We're taxpayers and not slaves of the state".
Photo for transparency, where did privacy go?
Minister of Interior, Saimir Tahiri says that fines are being issued to introduce standards in road using. In the framework of transparency, Tahiri says that offenders are being photographed and they are being informed through the mail about their offenses along with a photograph.
"On one hand, this sanctions the burden of proof that State Police has in proving the offense and on the other hand, it doesn't allow abuses through corruption practices of the State Police. This also avoids unnecessary discussions between the citizen and police officer in cases when the offense is contested", says Tahiri.
But, lawyers say that such incentives breach the privacy of people and that they are illegal. Renowned lawyer, Brikena Kasmi, former vice minister of Justice, says that these are unlawful practices, stressing that police is taking unlawful measures against the citizens:
"Photographing cars means processing personal data and this is illegal if the person doesn't give his consent. Law No. 9887, dating 10.03.2008, says that "Lawful processing of personal data is made by respecting and guaranteeing basic human rights and liberties, in particular, in relation to the private life". According to the law, personal data may only be processed if the subject of the personal data has offered his consent".
More and more pedestrians are dying on the road
Albania has the largest number in the world of accidents involving pedestrians. This is claimed by minister Tahiri: "I can say that we have a number many times higher compared to any other country of the region and the world, of accidents involving pedestrians".
In fact, for 2013, 93 victims out of 295 victims were pedestrians.
The causes relate to the mistakes made by pedestrians, when they cross the motorway, when they cross motorway barriers, etc.
Farewell to vans?
The government has decided to remove passenger vans from the road. Minister Tahiri says that "vans will be removed once and for all as a means for passenger transport". Tahiri also claims that vans are often the cause for accidents, which often prove to be fatal for the life of the citizens".
The minister says that the removal of vans is being considered by the government as an indispensable security measure, to prevent fatal accidents. Mr. Tahiri informed that "State Police will urgently engage to stop the vans from transporting people".
Road transport, very far from European standards
Around two and a half decades after the overthrow of dictatorship, Albania needs a drastic reform, in order for transport, inter city one in particular, to be safe and to use safe and certified vehicles.
Transport must have a time table with drivers who are certified for this purpose and with vehicles that meet excellent standards, such as the Balkan and the rest of Europe have.
This is very simple to be done: By defining the responsibilities of every road user and every service provider according to the laws of the country. This way, an anarchy like situation in the public transport would improve. If this is done, it must be done as soon as possible, because as we've recently seen, tragic accidents are taking place by the day.
Why doesn't international experience apply to Albania
It's understandable that as soon as vans are removed from circulation, buses will emerge. A similar scenario took place several years ago with vans in Tirana, when mayor of that time, Edi Rama removed them. This way, owners of bus companies will start and rejoice over this.
But, passengers will face tiring journeys. Perhaps it's a little cheaper, but it's too tiring, because Albania doesn't have a proper motorway. It has several highways, which are often amortized, often uncompleted, often destroyed.
Morover, the majority of roads in the country are in located in mountains and hills, in every part of Albania. These roads are full of turns and have proven to be dangerous for buses.
We may recall the fact that in the recent years, the majority of accidents involving buses have resulted in a large number of victims and they have taken place due to the roads full of turns and in miserable conditions.
If we refer to the statistics of accidents reported on the media, the number of accidents in which vans have been involved is inferior compared to the total number of accidents that take place.
Given that minister Tahiri is ordering an urgent removal of vans, the least he can do is to justify his decision, because up until today, there's no proof that vans are the main cause of tragic accidents. What is known is the fact that passenger vans and vans transporting goods have been involved in accidents.
The truth is that international practice in the past 20 to 30 years has not seen the use of vans.
In contrast to Albania, where the political class has been totally irresponsible in achieving any EU standards, European countries have created and rigorously preserve optimal standards for road transport.
Not only do they have roads that meet standards, but they also have a very good transport system: they have trains travelling frequently and offering modest prices, they have comfortable buses for inter city journeys and some of them even have a subway system.  Several also have trams, cars which are affordable with the level of salaries, etc.
If we take a look on our neighbouring country in the region, Turkey, we will notice that vans are the main means of transport for urban, intercity and rural journeys. Although the road system in Turkey has significantly improved, these vehicles continue to play a major role in the transport of passengers, by maintaining a high level of standards and comfort in movement. /ibna/