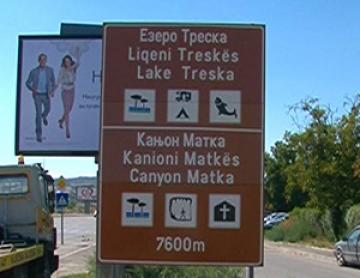 Skopje, September 5, 2013
Inspectorate of the Ministry of Transport in FYROM has ordered the removal of three lingual road signs, including the Albanian language in several main roads and highways of the country.
This inspectorate has ordered for this decision to be executed by "Roads of FYR Macedonia" enterprise within 5 days. According to the Inspectorate, the use of these road signs is illegal, as they are written in Albanian, something which the law doesn't allow.
But, "Roads of FYR Macedonia" public enterprise which is led by Gajur Kadriu refuses the decision of the Inspectorate of Transport, underlining that the road signs in Albanian are in compliance with the law. This was also supported by the vice Minister of Transport, Xhelal Bajrami, who said that these road signs will not be removed.
"These road signs will not be removed because someone doesn't like the fact that they're written in Albania. If the right procedure has not been respected, we will see to it that they are respected and public enterprise "Roads of FYR Macedonia" will appeal this decision in order for these road signs not to be removed", stressed vice minister Bajrami.
Road signs in Macedonian, English and Albanian have been put alongside the highway that links Skopje to Tetovo and the dual carriageway from Gostivar to Ohrid, indicating the tourist resorts of "The Sun Hill", Town of Ohrid, National Park of Mavrova, Canyon of Matka, etc. /ibna/