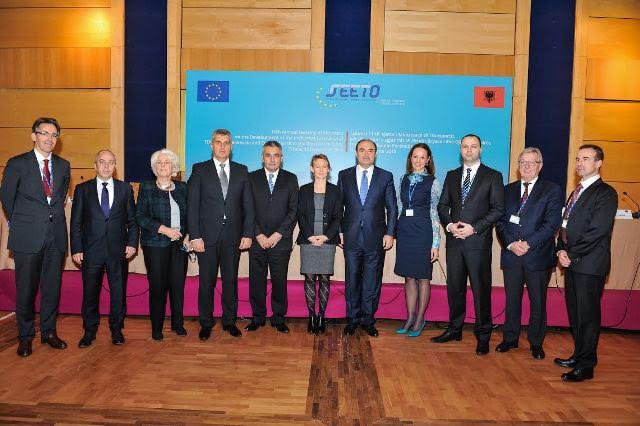 Tirana, 4 December 2015/Independent Balkan News Agency
The meeting between Ministers of Transport of the Region was held in Tirana, in the framework of the Southeast Europe Transport Obervatory (SEETO) incentive. Present in this meeting were ministers of Transport from Bosnia and Herzegovina, Montenegro, FYR Macedonia, Serbia and Kosovo.
The ministers agreed that more efforts should be made to strengthen ties through road networks, as an opportunity for further economic development.
Albanian Minister of Transport and Infrastructure, Edmond Haxhinasto said that Albania strongly refers to the Map of the main network of transport determined in cooperation with the EU.
Haxhinasto praised the new projects which are being implemented for the construction of this network. The Albanian Transport minister praised the construction of the Adriatic-Ionian Corridor, for which there's growing interest by a Chinese company. This project has also been agreed with the Montenegrin counterpart.
The minister also stopped on the necessity of lifting non physical barriers between the countries, especially in the need to liberalize transport services and border procedures, by bringing as an example the case of Muriqan on the border between Albania and Montenegro, where services between the two countries go through one single border crossing point.
Haxhinasto pointed out the efforts being made to revive the railway network. He said that there needs to be an improvement of connections with Montenegro and Skopje.
The minister considered the Tirana-Rinas-Durres project and railway connection to Greece as very important.
The importance of the improvement of road signals and maintenance, were considered as a necessity for safer and better transport services.
The participants also pointed out the 5 year program of maintenance which has a value of 130 million USD. /ibna/