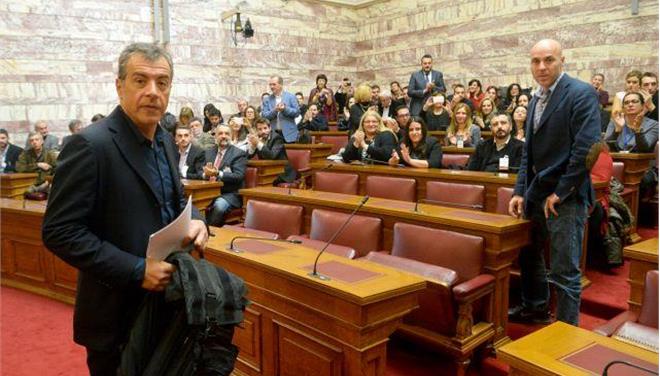 Athens, August 18, 2015/ Independent Balkan News Agency
By Spiros Sideris
Motion of censure against Zoe Konstantopoulou seems determined to table The River in the House, for the stance and behavior shown by the President of the House.
According to Mega television, already, The River has sent to the Parliamentary Groups of the opposition parties, except the Golden Dawn, the relevant text.
Speaking at Mega, The River's spokesman Dimitris Tsiodras stressed that this move cannot be done by MPs of The River alone, as a parliamentary majority is needed in this case. He confirmed that there are SYRIZA MPs who leave open the possibility to vote for the motion if filed, while doing so has been rejected by the MPs of KKE.
"Since the government does not dare to deal with the problem, let the House solve it. That's why we The River MPs took the initiative and opened the door. We have tabled to the parties a motion of censure against Mrs. Konstantopoulou so that everyone assume their responsibilities", Giorgos Amyras said.
The Prime Minister as well shortly before the adoption of the memorandum in the House had reiterated the issue of institutional disharmony and had left open the possibility of initiatives.
In the text The River MPs have prepared and are seeking signatures for tabling it in Parliament, they accused her of violating the essence of the Constitution. "She is the first president of the House in parliamentary history who does not perform civic duties, but politically. She violates the essence of the Constitution, which stipulates that the country's policy is specified by the government", it is stressed.
"She has turned the national delegation, the administrative staff and the channel of the House into her personal domain, to serve personal strategies which in no way have the approval of the government, the opposition and ultimately the Greek society", is mentioned in the text of the motion.
At the same time, citizens, who through a page on Facebook, call for a censure motion to be filed against her, are increasing. Already, the signatures have reached 40,000.