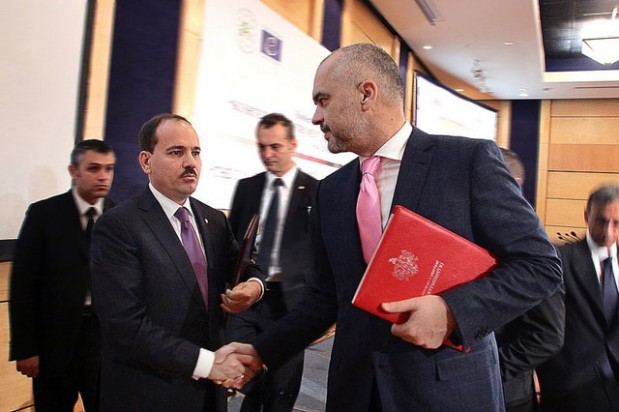 Tirana, September 19, 2014/Independent Balkan News Agency
A state rivalry has been launched between the presidency and council of ministers of Albania for the appointment of the new governor.
Both the prime minister and president of the Republic have invited candidates to apply in order to come up with a name for the new governor.
Nishani says that the new governor must be an Albanian citizen. He has also published an electronic address which is controlled by the presidency, to receive applications.
Meanwhile, the prime minister has published another e-mail address which is controlled by his government staff. He has publicly expressed the desire for the new governor to be a foreigner.
In this point, Rama is ahead, because as he announced a few hours ago, there  are 32 applicants from different countries of the world who have expressed their interest to be considered as future members of the Oversight Committee of the Bank of Albania. Now we must wait and see who will win this "game"? Rama, who may come up with the new name of the governor through the names of the new members of the Oversight Committee or Nishani, who may propose a candidate that can only be voted by the majority if the head of the government first gives his consent.
Government
The Government of the Alliance for a European Albania, launched a few days ago an official statement where it says that it invites Albanians who work today in the international financial system and who are available to be considered as potential candidacies to become part of the Oversight Committee of the Bank of Albania, to post
their letter of interest at the address especially created for this [email protected].
According to the government, this process is entirely based on the good will of the government to offer its contribution in order for the Bank of Albania to come out more independent and more secure out of this situation.
Presidency
Albanian presidency has issued an official release where it invites all interested candidates that meet the criteria and the criteria of the law for "The Bank of Albania" to apply for the post of the new governor.
The chief of cabinet of the president of Republic, Florjan Nuri declared that the institution of the President guarantees every interested applicant that his or her application will remain confidential.
"Every interested person can apply and contact on the address [email protected]. Every application must be accompanied by scanned documents. Applications for the post of the governor of the Bank of Albania will be accepted in the abovementioned address until October 5, 2014", said Nuri.
This declaration comes one day after parliament voted in favor of removing the former governor Ardian Fullani, after the theft of 713 million ALL, arguing that he has threatened the security of the Bank of Albania. /ibna/