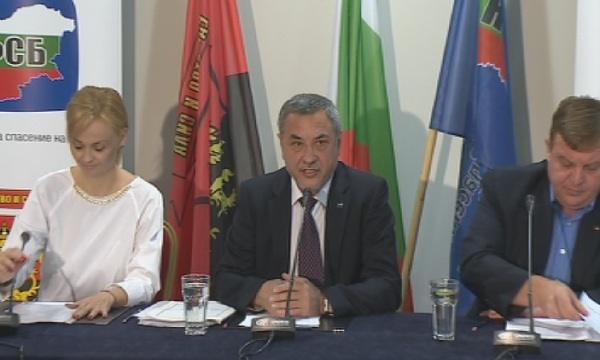 By Clive Leviev-Sawyer of the Sofia Globe
Bulgaria's ultra-nationalist coalition the Patriotic Front will have 19 seats in Bulgaria's newly-elected Parliament and its far-right Ataka rivals 11 seats, meaning that there will be 30 such MPs out of a total 240.
This is according to figures calculated by mathematic professor Mihail Konstantinov after 100 per cent of ballots were processed after the October 5 early parliamentary elections. The figures are unofficial pending final calculations and an announcement by the Central Election Commission.
The Patriotic Front is made up largely of Valeri Simeonov's National Front for the Salvation of Bulgaria and Krassimir Karakachanov's VMRO. The coalition was formed ahead of the elections after Karakachanov, a 49-year-old previously identified as a collaborator with Bulgaria's communist-era State Security secret service, took his VMRO out of alliance with Nikolai Barekov's populist Bulgaria Without Censorship party.
Simeonov is the owner of cable television Skat, which was the initial platform for Volen Siderov, a former journalist who founded ultra-nationalist party Ataka on a platform that has been centred on opposition to foreign ownership in the Bulgarian economy, as well as campaigning against US shared bases in Bulgaria, what he sees as "radical Islam" in Bulgaria and neo-Ottomanism. Siderov has been the subject of formal complaints of anti-Semitism and Holocaust denial.
Siderov's Ataka first entered Bulgaria's Parliament in 2005, returning in 2009 and again in 2013. During the time of the highly unpopular Bulgarian Socialist Party-Movement for Rights and Freedoms ruling axis from May 2013 to August 2014, Siderov provided the vote that enabled that axis to come to and remain in power – a seemingly anomalous move given his party's enmity towards the MRF.
But Siderov and Simeonov also fell out over the course of the years, with Siderov founding his own television station. The two cable stations, in turn each the subject of concern over broadcast materials that were, among other things, anti-Roma, devoted part of their efforts to attacking each other's rival parties.
It had not been expected by pollsters that Siderov would return to Parliament in the October 2014 elections, but he did, apparently boosted by an electricity price increase announced by the regulator a few days before the elections.
For Bulgaria's populist and nationalist parties, electricity prices are a major issue, which the parties use to attack foreign-owned electricity distributors as so-called evil foreign monopolists.
For all the enmity between Simeonov and Siderov, the Patriotic Front and Ataka have plenty in common in their stated outlooks – a "Bulgaria for the Bulgarians" attitude, an opposition to "foreign monopolies", an obsession with "gypsy crime", Islamophobia and Russophilia – the latter especially in the case of Siderov, who repeatedly has accused those in power in Bulgaria of trying to "drag the country into war with Russia" over Moscow's actions in Ukraine.
The October 5 elections put eight parties in Bulgaria's 43rd National Assembly, with Boiko Borissov's centre-right GERB getting the largest share of votes but facing a tricky task in trying to form a stable coalition government.
Senior GERB members have said that Borissov's party will include among its potential supporters for a minority government the Patriotic Front, while Siderov stated more or less plainly that his party would be in opposition.
While there are personal rivalries, the Patriotic Front's 19 votes and Ataka's 11 could, in the saga of whatever lies ahead for Bulgaria's new Parliament, see common stances on most issues. And while together the two groups make up only 30 seats out of a total 240, their presence could complicate the life of an already complicated Parliament.
(Photo of Simeonov and Karakachanov: BNT)