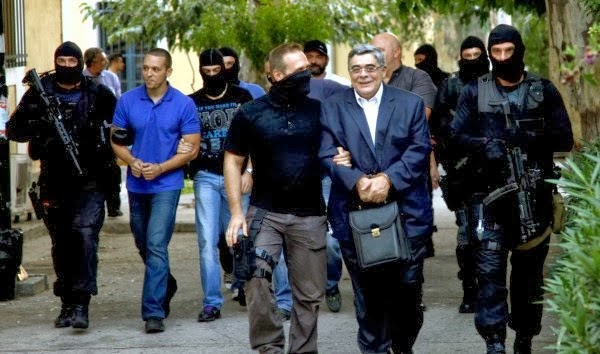 By Spiros Sideris – Athens
The complaints lodged by the defendants in the Golden Dawn case are delaying the completion of the investigation of the case, hence restricting the timeframes for the time-trial before the end of the 18-month detention limits. According to sources from the Court of Appeals, the repeated complaints by defendants in the Golden Dawn case "tie" the hands of the investigating judges of the special court of appeals, who despite having completed their research on the case files regarding the activity of the "criminal organization", are unable to declare an end.
So, instead of the case files already being in the stage of the prosecution proposal towards the Judicial Council to decide on how many and who of those involved will be brought to trial, they remain in the office two investigating judges until, as required by procedure, the requests of the defendants are judged.
Reportedly, to date 10  requests from defendants in the case, are pending, involving either releases or substitutions caveats.
If these demands are judged and provided that no new ones have been lodged, the investigating judges and I. Klapa and M. Dimitropoulou will call the defense counsels of the about 80 defendants to sign the end of the interrogation.
The continuous submission of requests from the defendants, which however have a legal basis, giving the right to the accused to file an appeal, despite previous same content having been rejected, it is estimated that it targets to the delay of the proceedings. Plus, the Court of Appeal is likely to be a real danger to expire 18-month detention before the completion of the trial for the action of the Golden Dawn.
Note that about 30 defendants are remanded for the case, including the Secretary-General and members of the Golden Dawn, while the first 12-month provisional imprisonment is completed in late September and October.
Meanwhile, by order of the investigating judge, the application lodged by the wife of the leader of the Golden Dawn, MP Helen Zaroulia was accepted, amending the term to house arrest. Thus, according to the counsel of Ang. Aggeletos, the MP, who until now only had the right to go to Parliament, now becomes able to visit her husband once a month in prison, go to a pharmacy and the bank with which she transacts, all with police escort.