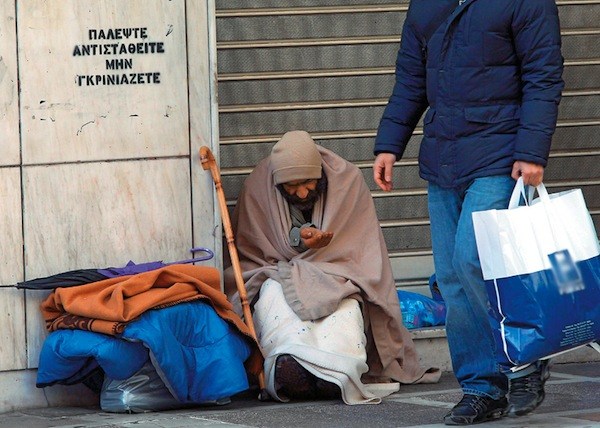 Athens, June 24, 2016/Independent Balkan News Agency
By Spiros Sideris
At risk of poverty or social exclusion is 35.7% of the population and this risk is higher in the case of those aged 18-64 years (39.4%).
According to the Survey on Income and Living Conditions 2015 (income 2014), the risk of poverty or social exclusion shows a slight decrease compared with 2014 (36%).
The population aged 18-64, which is at risk of poverty or social exclusion is estimated for the Greeks at 37.4% and for foreigners residing in Greece at 64.3%.
The poverty line amounts to EUR 4,512 per person per year and EUR 9475 for households with two adults and two dependent children under 14 years.
The risk of poverty for children aged 0-17 years (child poverty) amounts to 26.6%, up by 1.1 percentage point compared with 2014, while it is higher by 5.2 percentage points compared to the rate of the country's population.
The population living in households where no member works or works less than three months in the year, amounts to 1.1113 million people, or 18.7% of the population aged 18-59 years, while in 2014 it amounted to 1.1658 million people.
The risk of poverty rate before all social transfers (not including social benefits and pensions in the total household disposable income) amounts to 52.9%, while when only pensions and no social benefits are included, it drops to 25,5%.
The risk of poverty calculated at the poverty threshold at a fixed period – specifically the years 2005 and 2008 – is an indication of whether the standard of living on lower incomes has improved with the passage of time.
The purpose of this comparison is to document how the poverty risk varies in absolute rather than relative terms, ie when the poverty threshold remains constant over time in terms of real purchasing power.