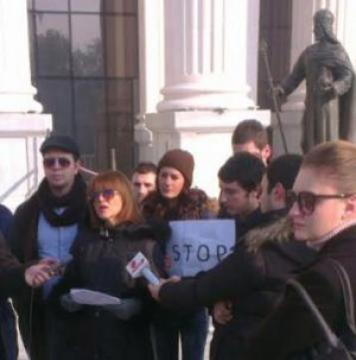 Skopje, December 5, 2013
RISE Movement has reacted today against the placement of the monument of Tsar Dushan in Skopje.
Protestors claim that this is the figure of an invader and murderer of Albanians and Macedonians in these lands, therefore they demand from the mayor of Center Commune the demolition of this monument. RISE Movement has also asked authorities as to when the Albanian monuments, part of Skopje 2014 project will be placed.
"Who placed and funded this monument? How many other monuments will be placed as part of this project which the citizens refused in the last elections? Albanians do not approve the placement of the monument of an invader and murderer such as Tsar Dushani to be placed in Skopje. Do Macedonians approve it!? Where are Albanian monuments? If nobody is responsible for this scandal, then the placement of this monument is illegal and we invite the mayor of Center to demolish this disgrace of Macedonia", said Teuta Zllatku from RISE Movement. /ibna/