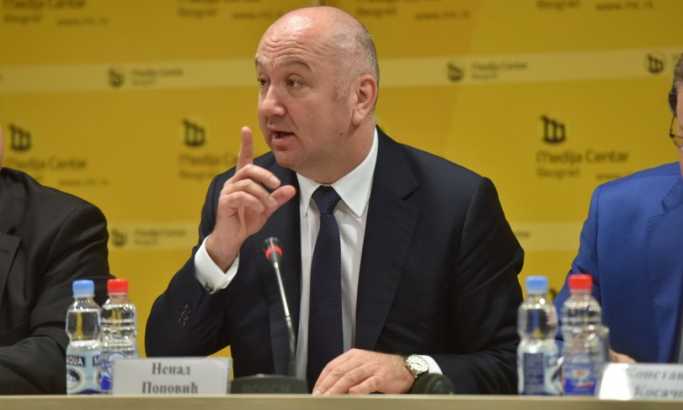 Cracks have appeared in the Serbian government after foreign minister Ivica Dacic has officially confirmed that Belgrade strives for demarcation between ethnic Serbs and ethnic Albanians as an solution for the Kosovo dispute.
Nenad Popovic, minister for technological innovations, who is openly pro-Russian, has criticized Dacic's statement. Dacic reacted by saying that Popovic should reconsider whether he would remain a member of the cabinet.
Dacic said that he "cannot remember a time when a minister had so strongly attacked president Aleksandar Vucic, as Nenad Popovic has done". "The situation is clear. Popovic does not support what president Vucic has initiated", the foreign minister told TV Pink, alluding to the demarcation. "Those who think that Popovic has attacked me, haven't got a clue about politics", Ivica Dacic elaborated.
He went on by claiming that Popovic's statements were "very harmful" because they allegedly lead towards a rift. Popovic was, according to Dacic, "falsely informed about Russian president Vladimir Putin's approach with regard to the demarcation; Putin was not opposed to that idea, he claimed.
"Five years ago Putin had accepted that proposal. I have personally discussed it with Putin. Both Vucic and I have on many occasion talked with Putin", Dacic said.
On Thursday, Popovic said that he would talk "exclusively" with Vucic as to whether he would remain in the government. "Dacic has nothing to do with it. He did not discuss my entry in the government with me. I will talk with the president who alone has the right to decide about it", Popovic said.
He claimed that "it was good that Dacic has revised his statement about the demarcation". "This (demarcation as a solution) has not been decided by any government institution", Popovic underlined, reiterating that he strives for a solution in which Kosovo would remain part of Serbia "with the highest autonomy in the world"./IBNA