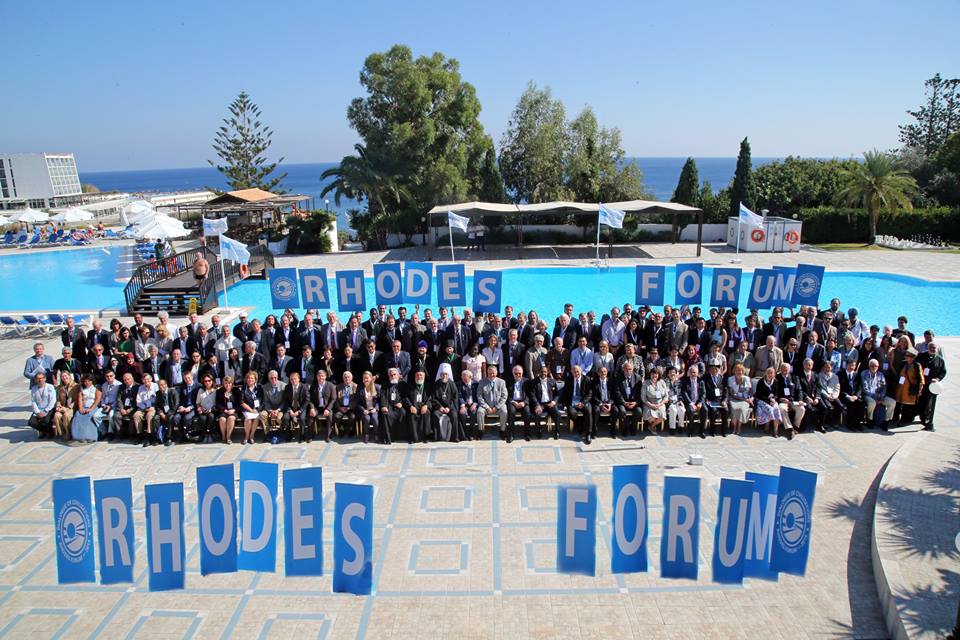 Rhodes, October 10, 2015/ Independent Balkan News Agency
By Spiros Sideris
Vladimir Yakunin, President and Co-Founder of World Public Forum, "Dialogue of Civilisations" (WPF "DoC") on Friday opened the 13th annual Rhodes Forum and announced the launch of a major new global think tank. Dr Yakunin said that the board of WPF "DoC" has agreed to create a research institute focussed on infrastructure as a possible basis for new economic development and conflict prevention.  The think tank will be based on the foundations laid by the organisation over the past 13 years.
Dr Yakunin, who for a decade led Russian Railways, one of the world's largest transport companies, said that it was his intention to devote the majority of his time to WPF "DoC" as it moves to the next stage of its development.
Over 350 delegates are attending this year's Rhodes Forum. They include:
Vaclav Klaus, former President of the Czech Republic
Alfred Gusenbauer, former Federal Chancellor of Austria
Ionnis Amanatidis, deputy Foreign Minister of Greece
Karl-Theodor von und zu Guttenberg, former Defence Minister and Economics Minister of Germany
Hans Köchler, President, International Progress Organisation
Fred Dallmayr, Professor, Department of Philosophy and Political Science, University of Notre Dame
Other participants include Cynthia McKinney, US human rights activist and former member of the US House of Representatives, Ali Allawi, former Minister of Finance of Iraq, Jayati Ghosh, Professor of Economics, Centre for Economic Studies and Planning, Jawaharlal Nehru University, New Delhi as well as other politicians, academics and civic leaders from more than 50 countries.
Amid the backdrop of escalating military action in Syria and the refugee crisis in Europe, the Rhodes Forum, which runs from Friday, October 9th until Sunday, October 11th, offers an open platform for people from around the world to discuss the roots of and solutions to pressing global problems.
Dr Yakunin reaffirmed the core values at the heart of dialogue of civilisations and underlined the importance of constructive dialogue to find peaceful solutions to current global conflicts.
He said: "Our organisation is about embark on a period of major change and development. Having dedicated the last 13 years to promoting dialogue between different civilisations in the broadest sense, I now want to use this base to create a world class think thank that will make practical policy recommendations.
"We have seen that a world dominated by a single civilisation does not work. Recent conflicts in Afghanistan, Iraq, Libya and Syria have demonstrated the failings of Western interventionist foreign policy.
"It is clear from the current state of conflict throughout the world that intercultural dialogue is vital. This view has recently been endorsed by the President of the Council on Foreign Relations, Richard Haas, who stated that the over dominance of American foreign policy over the last century has been the root of many of the most difficult struggles that exist today."
Dr Yakunin added: "In a world driven by consumerism, people are brought up only to care about satisfying individual needs. This is at the expense of the cultural values that make up different civilisations. If we do not try to control this we will lose the principles and moral standards of society."