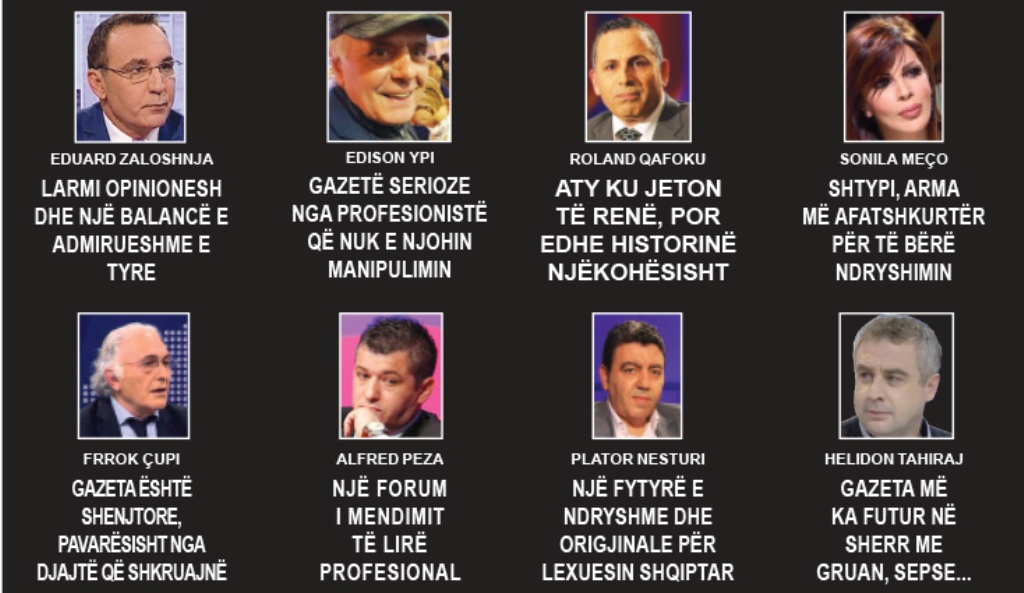 A FEW WORDS BY THE PUBLISHER 
ONE YEAR 'ALBANIAN FREE PRESS'
By SPYROS SIDERIS
Publisher of Albanian Free Press, Nezavisen and Independent Balkan News Agency 
The first "baby" of the Independent Balkan News Agency Media Group, the Albanian Free Press has its first birthday in print.
A great step for us all who are fighting to offer true, independent, accurate and in time information of the public.
On one hand, I am certain that my colleagues at the newspaper can say much more about the anxiety, the difficulties but, at the same time, the successes and failures entailed in this effort.
On the other, you, our readers are the ones judging us on a daily basis and the persons who help us improve.
This is why we want you next to us; entering this second year of our printed life and having you by our side, we want to make our relationship even more constructive.
As far as I am concerned, I wish to share my happiness for having made this decision to embark on this trip, with all of you.
I got to know Albania better and now I consider it an important part of my life.
I made new friends, was introduced to very interesting people, discovered many common things that connect us, shared talks with disagreements and agreements.
Thank you all for travelling 'aboard' Albanian Free Press with us.
I thank all my colleagues at the newspaper for sharing my concerns and for supporting me every step of the way.
Happy independent and informative birthday, Albanian Free Press.
EDITORIAL/ The journey continues…
By EDISON KURANI
Albanian Free Press' editor in chief
Albanian Free Press, the youngest newspaper in the country, started its journey in the Albanian media market a year ago. This is a newspaper like no other before it, bringing a revolution in many aspects.
Albanian Free Press knew how to be completely independent, distancing itself from daily political gossiping and the artificial noise which often dominates Albanian media and beyond. Without any doubt, key to this success was the fact that the newspaper is part of Independent Balkan News Agency, a media group chaired by journalist Spiros Sideris. This group includes the Balkan news agency in the English language and the languages of the respective countries, Albanian Free Press newspaper, the Macedonian based Nezavizen Dnevnik, etc.
During this first year, this newspaper applied the principle of impartiality in the way it reported and this was never seen before.
In 12 months, the newspaper reported national and regional news, without the tendency to make everything bombastic, but aiming to report news as it happens. Not only this, but Albanian Free press accompanied daily news stories with opinions, comments, analyses and interviews.
The best opinion makers became part of our newspaper, offering a balance which had not been seen up until today in the Albanian press. The most prominent names of the OP-ED section, with many years of experience, immediately became part of the newspaper, which, as we predicted in the beginning and proved later on, it has an admirable balance of political perspective backed by an editorial independence.
The newspaper, which comes out in 10 thousand copies a day and which has as many downloads in the PDF version, is distributed free of charge in all newsstands in the capital and Albanian Post Office branches all over the country.
Albanian Free Press is everywhere in Tirana, in all state institutions and diplomatic centers, national and foreign NGOs and different offices. It is also present in many businesses, in bars and cafes where it is enjoyed free of charge along with the morning coffee.
Dealing with all areas of life, Albanian Free Press includes opinions, interviews, business stories, dossiers, cultural news, sport news and without any doubt, the weekly "Extra" supplement which is dedicated to culture and showbiz.
Exclusive interviews with most prominent names from politics, current affairs, culture, art, sport and many others are one of the strongest points of the daily newspaper Albanian Free Press.
With more than 500 opinions and analyses and with as many interviews, our newspaper has broken the records of exclusive materials in the Albanian world of media.
Its second year has just started and this journey continues.
SPECIAL REPORT/ "Albanian Free Press" columnists, who have written exclusively for this daily newspaper since the very beginning, offer their inputs on the first anniversary of the youngest media in Albania. Their wishes for this first year and their suggestions for the year which has just started
Questions
"Albanian Free Press" celebrates its first anniversary. What is your opinion on the journey it has made so far? What has it managed to offer readers during this period? 
What is your wish for this second year of publication of "Albanian Free Press"? Predictions for the future and your suggestions on how it can be more successful?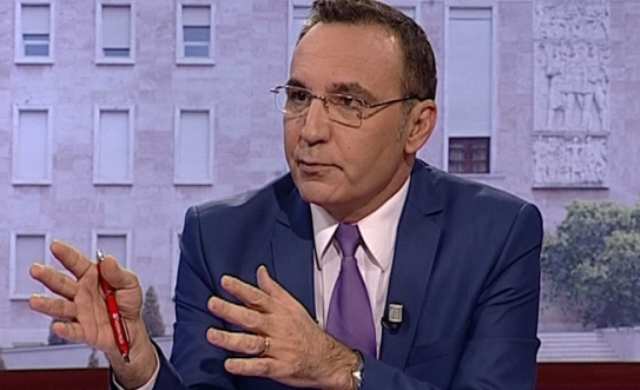 EDUARD ZALOSHNJA: A VARIETY OF OPINIONS AND AN ADMIRABLE BALANCE
1
"Albanian Free Press" is a novelty in the Albanian media market, thanks to its innovative business model. It is distributed everywhere free of charge with the aim of attracting as many readers as possible. The more readers this newspaper has, the better it is for companies that want to have a bigger audience for their adverts.
I have observed that this newspaper is being read in bars, coffee shops and cafes throughout the country and it may have reached a phase where it can even attract important marketers. This success is attributed to the fact that the pages of this newspaper offer a variety of opinions and an admirable balance. This newspaper also offers lots of news stories from politics, economy, culture and sport.
2
I hope that on its second year, the business model of this newspaper will continue to yield results. In other words, the more readers there are, the more adverts there are. In terms of the content, this newspaper covers interesting topics for all ages, but I feel that it doesn't reach young ages very well (a very valuable category for marketers). Perhaps, new ways need to be found in order for the newspaper to reach this age group (given that its content has interesting topics that may interest young people).
EDISON YPI: A SERIOUS NEWSPAPER BY PROFESSIONALS WHO DON'T KNOW HOW TO MANIPULATE
1
I have seen "Albanian Free Press" in the hands of people living in remote villages. I wasn't surprised. "Albanian Free Press" has managed to be present in every corner because it is not one of those newspapers where small time columnists congratulate each other out of hypocrisy about this article or that article, without even bothering to read it. "Albanian Free Press" is a serious newspaper which is not published by amateurs, but by professionals, who do not manipulate, who respect the ethics of communication, etc. On this first anniversary, no compliment is too much for "Albanian Free Press". Let us blow the candle on the cake, wishing to the newspaper to continue on this path.
2
Small and mediocre stuff are complicated. Big and genius things are simple. Leonardo only needed his paintbrush and colors. Michelangelo only needed his chisel and hammer. Beethoven only needed a pencil and a music sheet. In order for "Albanian Free Press" to continue to be important, precious and well respected, it only needs professionalism and humanism. Nothing more.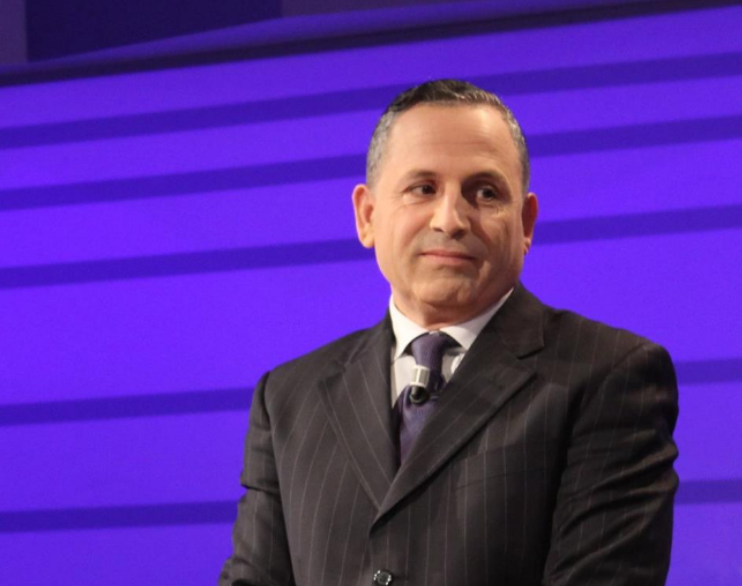 ROLAND QAFOKU: THE PLACE WHERE ONE LIVES NEW THINGS AND HISTORY TOO
1
A year went by so fast. Among the many news portals and online media, "Albanian Free Press" is the last Mohican that aims at preserving this status eternally. When you take "Albanian Free Press" in your hands, it looks as if you live in the present and in the past at the same time. You get to learn new things, but history as well. A well-conceived newspaper with novelties and above all, its pages contain news that no other newspaper have. In today's world of Albanian media, we have all newspapers competing with each other in different ways and on the other, we have "Albanian Free Press" which only competes with itself. The merit goes to the newspaper's staff and more specifically, to its editor in chief, Edison Kurani, who, in most cases and through his stubborn nature of the winner, managed to achieve what he aimed for: to produce something special which is read massively.
2
With what it has achieved, I don't think "Albanian Free Press" needs my advice. It needs to continue on this path and its success will be guaranteed. Perhaps, changes in technology will be dictating, but I'm convinced that "Albanian Free Press" will find its way. I truly wish the newspaper continues in many years to come as it is the only one which preserves the traditional way of journalism. News and an analytical style of the newspaper. All of my best wishes go for "Albanian Free Press"!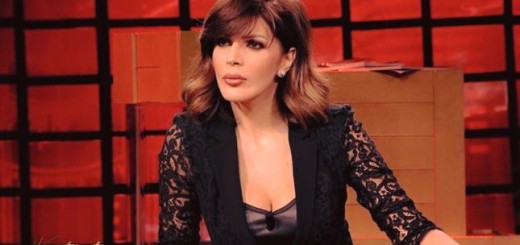 SONILA MEÇO: THE PRESS IS THE MOST SHORT-TERM WEAPON TO MAKE A DIFFERENCE
1
The fate of many initiatives is often foretold by their names. With the freedom that this daily newspaper offers, I also benefited my share of free press by writing, analyzing and commenting the developments of a difficult year. Thus, on this first anniversary, I feel proud of being part of the journey made by this newspaper focusing on facts at a time when we're surrounded by farce and fake news, by this newspaper where ideas are confronted, by this newspaper which reaches everywhere, a newspaper that dares and explains. To survive in times of cholera for the press, in financial terms and in terms of content, is an achievement, but to live with the country, the man, the pace of the city, is a mission which has been fulfilled.
2
In difficult days for hope, press remains the most short-term weapon to make the difference. Therefore, I encourage it to continue and deserve the title Free Press, because freedom is not restricted without being lost.
FRROK ÇUPI: THE NEWSPAPER IS A SAINT, DESPITE THE DEMONS WHO WRITE IT
1
What has it achieved? The newspaper has a good luck and a bad luck. The bad luck relates to the fact that the newspaper is prejudiced by what some people write. But, the newspaper, as a spirit and a body, is, nonetheless "good". Because the newspaper is a saint, despite the demons that write on it. The bad luck of the newspaper happens when it falls in the hands of professional and honest people. "Albanian Free Press" belongs to the second category of luck. I feel good that my articles are published on this newspaper, where I value the columnists and the newspaper's principles. I also value its founder, Spiros Sideris, whom I know to be a very good journalist and a very good expert of the region.
2
My wish? It can only be one. I don't want to doubt on the longevity of the newspaper by wishing it to continue for many years to come. It was born and a newspaper lives for generations. I am certain that this will also be the case for this one.
A wish? In fact, I have a wish and a suggestion. I want the newspaper to fall in the hands of more well-mannered people. I don't want to see a newspaper thrown on the floor just because it's free. I want the newspaper to better get along with the reader: To understand them before they read it and for the readers to understand it and appreciate it after reading it.
HELIDON TAHIRAJ: THE NEWSPAPER HAS CAUSED TROUBLE WITH MY WIFE, BECAUSE…
1
The newspaper and the section that I write has brought me closer to my neighbors. They read my section daily, at the café where I drink the morning coffee. After reading them, they congratulate me and sometimes, buy me a coffee.
The newspaper has caused me trouble with my wife, who says to me: "Write it quickly and send it because you need to babysit on the boy afterwards!" I cannot satisfy her wish, because I want the people who read what I write, to also like them in 50 years time.
2
My wish for printed newspaper is this: May it live for as long as paper lives!
I don't have any forecast for my section, because, given that the newspaper is free, I cannot say that I will try to boost sales with the quality of my section, in order to get a pay rise.
My suggestion for the newspaper is this: It should introduce investigation!
Good luck in the future, in the tough market of journalism, where the majority of newspapers focus on the criteria that people need to meet to benefit increase of pension or the list of compensation for those who were flooded 8 years ago.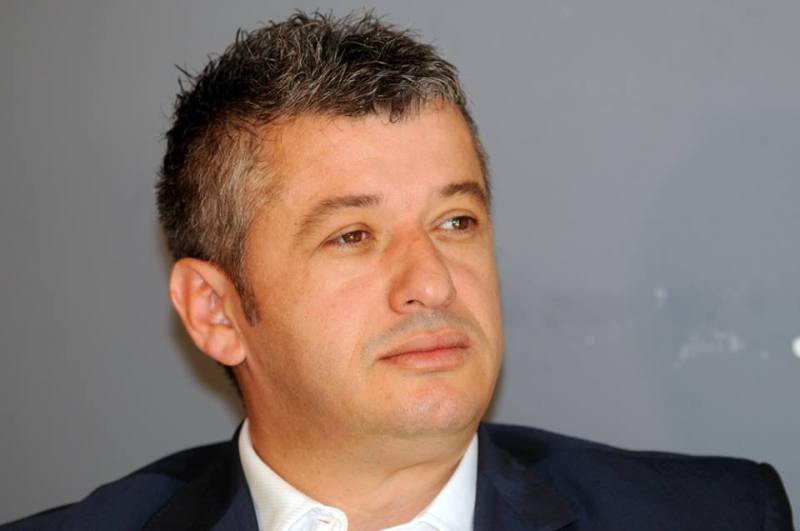 ALFRED PEZA: A FORUM OF THE FREE PROFESSIONAL THOUGHT
1 
"Albanian Free Press" entered the world of printed media at a time when everyone was leaving it, because social and online media were giving the final blow to traditional media. It showed big courage and above all, it was a real test for the Albanian reality. I think that it has been a difficult journey, but an interesting one, nonetheless, with a new professional approach which goes against the mainstream.  Therefore, the challenge has been difficult. Challenges are beautiful when they are won. I think that "Albanian Free Press" has managed to have its say, to have its identity and to be part of a reality.
I think this newspaper has brought what journalism lacked, at a time of aggressive competition by online media. It has managed to act like a mirror of opinion making, analysis, forecast, a forum of professional free thought, a mirror where things are made clear through media instruments. This has turned this newspaper into a point of referral, into a tribune of professional journalism and free thought. This is what I think makes this newspaper welcome every morning by thousands of readers in every corner of Albania.
2
My wish is like the wish made to a child when he turns one year old: May you grow as quick as you can and enjoy good health, because the first year in life is very important not only for the following years, but also to better project the coming years. Therefore, I hope for "Albanian Free Press" to have a long life and become healthier professionally, for itself and for its numerous readers. "Albanian Free Press" is the perfect example that printed media in Albania is not dead, that it has a future, despite the real competition with online media and other traditional ones. Thus, my suggestions is this: I hope for "Albanian Free Press" to look for a way which makes it vital for the reader, the same as those news members who have survived, informed and entertained people for 400 years.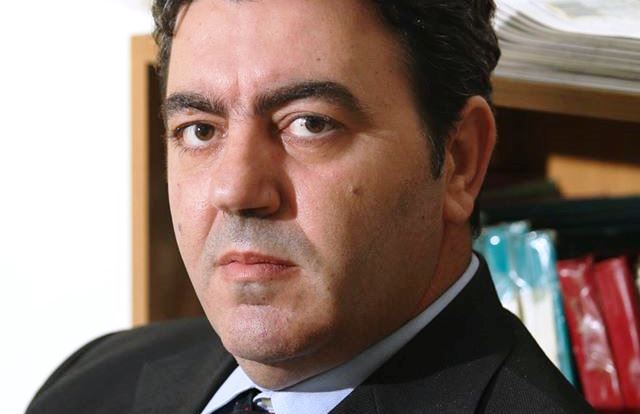 PLATOR NESTURI: A DIFFERENT AND ORIGINAL IMAGE FOR ALBANIAN READERS
1
One year is not a lot in the life of a newspaper, but the first year shapes the future of a media. "Albanian Free Press" knew how to present itself with a different and original image to the Albanian reader. This is not an easy period for the Albanian media, where credibility is a rare good and where alternative thought upholding public interest is barely surviving. In this aspect, I am honored that I have made my modest contribution for "Albanian Free Press", a newspaper where I've felt free to give my opinion. The readers' comments show that the newspaper is on the right path, but they also show that the newspaper has brought something special.
2
The future is built, thus "Albanian Free Press" needs to follow its path, which has started by serving the interests of the people. In this aspect, I would suggest a deeper dynamic in terms of news and the topics that the newspaper handles. We can see that a number of problems that concern Albanian society have often been handled by "Albanian Free Press" and later on, they have been used by other media too. The efficiency of the continuity for these topics which have served as a domain for "Albanian Free Press", may be a goal which can attract more readers. However, we're on the right path and every successful element of this year may serve as a premise for a better future for the newspaper. I wish for this year to be a successful one and for "Albanian Free Press" to further increase its professional standards.