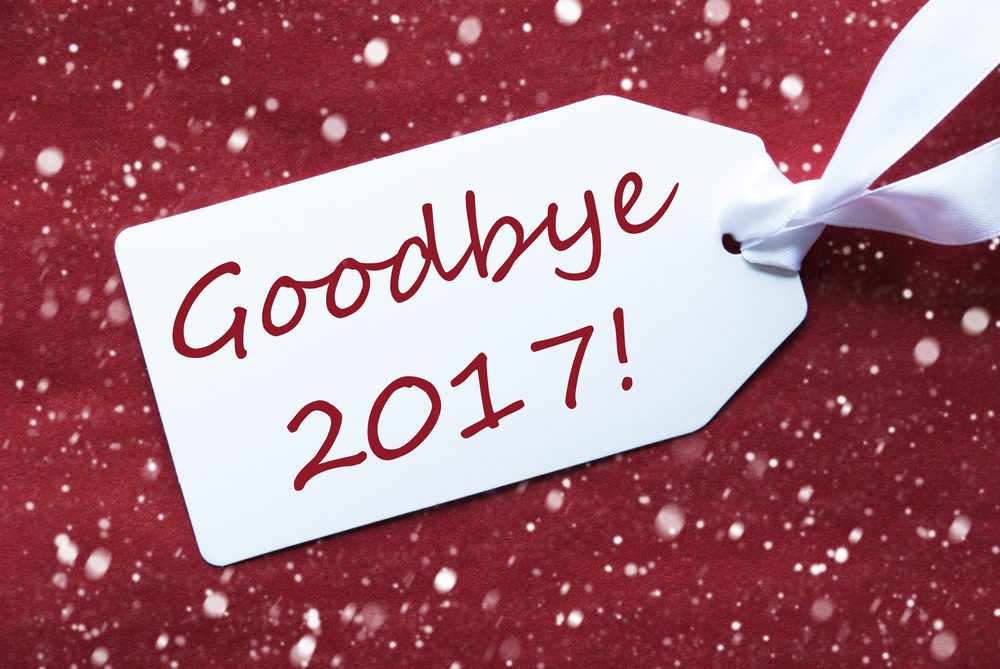 In 2017, the wider Balkan region was faced with elections battles, referenda, terrorist acts and natural disasters. IBNA rewound the time tape only to remind our readers of the most important events and moments of the year we are saying «goodbye» to.
January 2017
1: A gunman opens fire in a nightclub in Istanbul, on the European coast of the Bosphorus, killing at least 39 people with an additional 69 wounded. The Islamic State in Iraq and the Levant claims responsibility for the attack in what they said was a response to Turkey's actions in neighbouring Syria.
Photo: Reuters
-Portugal's António Guterres begins his term as United Nations Secretary-General, replacing South Korea's Ban Ki-moon.
3: The Grand National Assembly of Turkey votes to extend a state of emergency, imposed after last year's attempted coup, for another three months.
5: A shootout in İzmir kills two gunmen while another one escapes. During the shootout a car bomb explodes, killing a police officer and a court employee.
9: Greek and Turkish local leaders of Cyprus resume talks to end the division of the island before a high level multilateral conference takes place in Geneva, in the (then) latest effort to reunify the island.
13: Turkish President Recep Tayyip Erdoğan vows that the Turkish Armed Forces will stay on Cyprus "in perpetuity" and that the proposal of a rotating presidency for a unified island is unacceptable, casting doubts on an eventual solution to the dispute. The remarks come as the latest round of unity talks end, with them to restart on January 18.
14: The Turkish Parliament approves two constitutional amendments which expand the powers of the President to appoint new legislation and select the cabinet.
15: Serbian President Tomislav Nikolić accuses Kosovo of "seeking a war" after a train, en route to the Serb-majority city of Mitrovica in North Kosovo, and decorated in Serbian national colours and the words "Kosovo je Srbija" (Kosovo is Serbia), was prevented from crossing the Kosovan border. The Prime Minister of Kosovo, Isa Mustafa, says the train had been stopped "to protect the country's sovereignty".
Photo: Oliver Bunic/AFP/Getty Images
17: Abdulkadir Masharipov, suspected of killing 39 people in the 2017 Istanbul nightclub shooting, is arrested in Istanbul's Esenyurt district.
26: The Supreme Court of Greece rejects the extradition of eight soldiers accused by Turkey of involvement in the 2016 Turkish coup attempt.
29: In the largest protest since the 1989 Revolution, more than 90,000 people march through Romania's capital and other cities, against a government proposal to pardon thousands of prisoners.
30: In Ankara, the Turkish government opens the trial of 270 suspects charged in July's failed coup, in Ankara. The defendants include, in absentia, the alleged mastermind Fethullah Gülen, former NATO Chief of Staff Major General Salih Sevil, and other high-ranking military officials.
31: Despite massive protests in recent days, Romania's government adopts an emergency ordinance to decriminalize some graft offences.
February 2017
3: At least 47 ISIL militants have been killed by Turkish and U.S.- led bombing raids by fighter jets on the town of al-Bab in the last 24 hours, with the Turkish Armed Forces attacking 135 other ISIL targets in northern Syria.
5: Turkish police arrest over 400 suspected ISIL members in raids across the country.
-More than 600,000 people protest in dozens of cities in Romania and diaspora against Grindeanu Government.
Photo: dreamstime.com
-Following diplomatic mediation by the European Union and the United States, minority Serbs tear down a concrete wall in Mitrovica. The city's majority of Albanians regarded the wall as a provocation.
8: The Turkish government dismisses more than 4,400 public servants from their jobs in the latest purge within the country following a failed coup attempt last year (2016).
-The government of Prime Minister of Romania, Sorin Grindeanu survives a no-confidence motion over proposed decriminalisation of certain corruption offences, with 161 MPs voting in favour of the motion, short of the 232 votes needed for it to pass. Also that day, the Constitutional Court rejected two pleas made by President Iohannis and the Supreme Council of the Magistracy (CSM) that claimed an institutional conflict between the Parliament, respectively the CSM on one hand, and the Government on the other, in a move that surprised the critics of the PSD-led cabinet and the protesters. The next day it rejected the final plea made by the Ombudsman on reasons of inadmissibility.
9: Romanian Justice Minister Florin Iordache resigns after losing the support of Prime-Minister Sorin Grindeanu. President of the Senate Călin Popescu-Tăriceanu notifies the Constitutional Court claiming a judicial conflict of a constitutional nature between the Government of Romania and the Public Ministry, through the National Anticorruption Directorate (DNA).
11: Over 70,000 people are evacuated from Thessaloniki, Greece, as authorities attempt to defuse a World War II-era unexploded ordnance, that was discovered last week.
14: Turkish police arrest over 800 people with alleged links to the outlawed (in Turkey) Kurdistan Workers' Party (PKK).
22: The Turkish government lifts the ban prohibiting female army officers from wearing a Hijab. The military is the last Turkish institution to end the ban.
Photo: TRTWorld
March 2017
11: Dutch authorities withdrew landing permission for a plane carrying Turkish Foreign Minister Mevlüt Çavuşoğlu, who was due to speak at a Rotterdam rally in support of a 'Yes' vote in April's constitutional referendum. Turkish President Recep Tayyip Erdoğan says the Netherlands are "Nazi remnants and fascists", after the plane was turned back. Dutch authorities expelled the Turkish Family minister Fatma Betül Sayan Kaya from Rotterdam, and escorted her to the German border.
12: Albanian Prime Minister Edi Rama dismisses four cabinet ministers, including Minister of Internal Affairs Saimir Tahiri and Minister of Health Ilir Beqaj, in a bid to make the government more technocratic following opposition Democratic Party protests
13: Turkey bans the Dutch ambassador, Cornelis Van Rij, from returning to the Embassy of the Netherlands in Ankara, and closes its airspace to Dutch diplomats in response to a Dutch ban on Turkish ministers speaking at pro-Erdoğan rallies.
27: Official results of yesterday's election are released today. An exit poll showed the centre-right GERB winning the most votes
29: Turkish Prime Minister Binali Yıldırım announces an end to the operation Euphrates Shield, which was part of international military operations against ISIL. He adds: "Any operation following this one will have a different name."
April 2017
3: Serbian presidential elections. Voters in Serbia go to the polls for an election, which Prime Minister Aleksandar Vučić of the conservative Serbian Progressive Party is expected to win. In projections, Vučić gets around 55% of the votes, avoiding a second round.
16: Turkish constitutional referendum. Voters in Turkey go to the polls for a referendum that seeks to replace the country's parliamentary system with an executive presidency, thereby giving President Recep Tayyip Erdoğan sweeping new powers. Erdoğan's AK Party has claimed victory while the opposition CHP has said that it will challenge the result.
18: Turkish constitutional referendum. The European Commission, based on the Organization for Security and Co-operation in Europe report, calls on Turkey to launch an investigation into allegations of referendum voting irregularities.
19: Four Hellenic Army officers are killed and one is injured when their Bell UH-1 Iroquois border patrol helicopter crashes near Elassona, in northern Greece.
22: Pope Francis, while honouring Christians killed under Nazism, Communism, dictatorships, and terrorism at Rome's Basilica of St. Bartholomew, adds to those named the wife of a Muslim he met on Lesbos (island), Greece, who was killed by terrorists, because she would not throw down her crucifix. Francis referred to the Lesbos camp as a 'concentration camp', noting that, despite the good will of local communities, many refugee camps are overcrowded and feel little more than prisons.
25: Turkish air strikes kill 18 Kurdish YPG fighters and media officials in northeastern Syria. Also, five Peshmerga fighters are killed during a Turkish attack in Sinjar, in Iraq. Turkey also claims to have destroyed "terror hubs". Iraq denounces the strike as a violation of its sovereignty.
27: The fYROMacedonian Parliament is stormed by protesters opposing the election of Talat Xhaferi, an ethnic Albanian, as Speaker of the Assembly.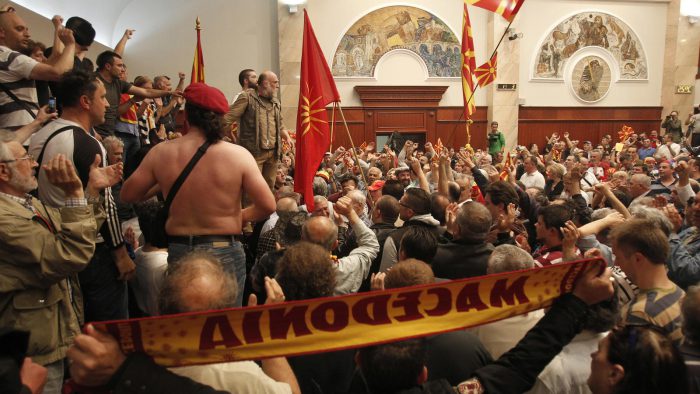 Photo: Boris Grdanoski/AP
28: Ilir Meta is elected the new President of Albania, winning 87 votes out of 140 members of the Assembly.
-The Parliament of Montenegro votes 46–0 to ratify Montenegro's membership of NATO, while opposition politicians boycott the vote and hold protests.
29: Monitoring group Turkey Blocks reports that a provisional administrative order blocks access to all language editions of Wikipedia in Turkey.
30: Saeed Karimian, the founder and director of GEM TV, a Persian language network based in Dubai, is shot dead in Istanbul, Turkey, along with his Kuwaiti business partner. Karimian had previously been tried in absentia by a Tehran court and sentenced to six years in prison for spreading propaganda against Iran.
May 2017
4: A memorandum is signed by Russia, Iran, and Turkey calling for de-escalation of the Syrian Civil War, although neither the Syrian government nor the Syrian opposition are signatories.
5: Russia, Iran and Turkey reach an agreement, to establish four "safe zones" in Syria over which all military aircraft, including Turkish, Russian, and American aircraft, will be barred from flying.
13: A bus carrying tourists crashes near the resort town of Marmaris in southwest Turkey, killing at least 17 people and leaving 13 others injured.
-A TrainOSE passenger train derails near the Greek village of Adendro, leaving at least four people dead and five seriously injured.
16: The first synchrotron in the Middle East, SESAME, opens in Jordan, marking a rare co-operation between Iran, Israel, Turkey, and the Palestinian Authority.
Photo: Physics World
18: The U.S. summons Turkish ambassador Serdar Kılıç, after violence between protesters and Turkish security personnel outside the Embassy of Turkey in Washington, D.C. leaves over a dozen people injured. U.S. Senator John McCain calls on the Trump administration to expel the ambassador.
20: Enes Kanter, a Turkish basketball athlete playing in the American National Basketball Association, is detained at Henri Coandă International Airport after his Turkish passport was cancelled.
21: Enes Kanter, the Turkish player with the NBA's Oklahoma City Thunder, returns to the U.S. after having been briefly detained in Bucharest. Kanter alleged that his public opposition to Turkish president Recep Tayyip Erdoğan and support of exiled Islamic cleric Fethullah Gülen had led to the cancellation of his Turkish passport.
22: Turkey summons United States Ambassador John R. Bass to protest alleged "aggressive and unprofessional actions" by American security personnel against Turkish bodyguards, calling for the United States to conduct a full investigation on the May 17 clashes. The American ambassador told Turkey's government that its guards violated U.S. laws. Last week, the U.S. summoned Turkish Ambassador Serdar Kılıç to discuss about Turkish security officers hitting and kicking peaceful protesters outside the Turkish ambassador's residence in Washington, D.C.
25: Former Greek Prime Minister Lucas Papademos is injured when a booby-trapped package explodes in his hands, inside his vehicle, in Athens. Authorities report his injuries are not life threatening, though he remained hospitalized for quite some time.
June 2017
2: Russia lifts more trade sanctions it had placed on Turkey, following the 2015 downing of a Russian fighter jet.
5: Qatar diplomatic crisis. Bahrain, Egypt, Libya, the Maldives, Saudi Arabia, the United Arab Emirates, and the internationally recognised government of Yemen sever diplomatic ties with Qatar, ordering Qatari citizens in those countries to be expelled as well as cutting all land, air and sea connections. "National security," "media incitement" and Qatar's support of Iran are variously cited. Iran, Turkey, and the United States call for the sides to peacefully resolve their differences.
-Montenegro officially joins NATO as its 29th member, at a ceremony in Washington, D.C.
-The Turkish Interior Ministry announces that 130 people, living outside the country and suspected of militant links, will lose their citizenship unless they return to Turkey within three months and meet government standards. Named suspects include U.S.-based cleric Fethullah Gülen, and Peoples' Democratic Party leaders Faysal Sariyildiz, Tuğba Hezer, and Özdal Üçer.
7: A U.S. House resolution unanimously passes 397– 0 calling for all Turkish security guards involved in the May 16 clashes to be charged and prosecuted under United States law.
11: Kosovan parliamentary election. Voters in Kosovo go to the polls for a snap election, to replace the government of Prime Minister Isa Mustafa, who was removed from office in a 'no' confidence motion last month.
12: An earthquake of 6.3 magnitude shakes the Aegean Sea, causing one death. Many houses were damaged in Plomari village (Lesbos island) Greece, and some collapsed.
-A coalition led by the Democratic Party of Kosovo wins most votes in an election and is in a good position to form a government led by former rebel leader and Prime Minister, Ramush Haradinaj.
15: A European Union law enters force, scrapping roaming charges for people using mobile phones abroad within the EU and the European Economic Area.
-Serbian president Aleksandar Vučić nominates Ana Brnabić as the next Prime Minister of Serbia. If confirmed by the National Assembly, Brnabić will become Serbia's first female and (openly) lesbian Prime Minister.
Photo: Sava Radovanovic/Tanjug
21: After a short-term political crisis, that began when the governing PSD retracted its support, the Parliament of Romania passes a 'no' confidence motion against the government led by former PSD Prime Minister Sorin Grindeanu.
25: The Bahrain News Agency publishes an official list of the demands from Saudi Arabia, Bahrain, the United Arab Emirates and Egypt towards Qatar. Turkey says the demands on Qatar are unlawful.
-Voters in Albania go to the polls in an election important to the country's European Union candidacy, with both the ruling Socialist Party and the rival Democratic Party looking to gain a majority in the country's parliament. Voting is extended by one hour because of Eid al-Fitr celebrations and 39 °C degree temperatures.
27: Aftermath of the Bosnian War and Bosnian genocide. An appeals court in The Hague rules that Netherlands is partly to blame for the deaths of some 350 Muslim Bosnian men in the 1995 Srebrenica genocide and, in a move considered a landmark, orders it to pay limited damages.
28: The Conference on Cyprus officially re-opens in Crans Montana, Switzerland.
July 2017
3: The Greek Coast Guard opens fire on a Turkish-flagged cargo vessel in the Aegean Sea.
7: The Conference on Cyprus default to find a solution on the Cyprus issue.
9: The 450 km-long Turkish March for Justice concludes in Istanbul at a mass rally attended by hundreds of thousands of people.
11: Kurdish – Turkish conflict. According to the Turkish Army, its overnight air strike in Dargeçit killed eleven militants from the Kurdistan Workers' Party (PKK).
18: Turkey arrests six people, including the director of Amnesty International, for allegedly "helping an armed terrorist organisation".
21: A 6.7 magnitude earthquake in the Aegean Sea near Greece and Turkey kills two people and injures more than 520 others.
August 2017
29: A grand jury in Washington, D.C. has issued indictments for 19 people, including 15 identified as Turkish security officials, for attacking protesters in May 2017.
31: Official visit of Greek Minister of Foreign Affairs Nikos Kotzias in Skopje.
Photo: Spiros Sideris
September 2017
6: The European Court of Justice dismisses complaints by Slovakia and Hungary about EU migration policy, upholding Brussels' right to force member states to take in asylum seekers.
12: President of Turkey Recep Tayyip Erdoğan affirms Turkey has paid a deposit on the purchase of Russian S-400 missile systems.
15: The Iraqi Kurdistan Parliament votes to go ahead with the planned independence referendum, scheduled to take place on 25 September, 2017.
Photo (Library): Northern Iraq/Lida Filippakis
16: Turkey summons the ambassador of Germany, after at least 10,000 people rally in Cologne in support of the Iraqi Kurdish referendum.
17: At least eight people are killed and 137 injured after a strong storm hits western and central Romania.
-In basketball, Slovenia wins EuroBasket for the first time in history, beating Serbia 93–85 in the final.
23: Iranian forces launch a military exercise near the border of Iraqi Kurdistan, hours before a Kurdish vote on independence from Iraq. Turkey is also conducting a military exercise in the region.
26: Iraqi Kurdistan independence referendum. The result of a non-binding independence referendum by Iraqi Kurdistan will to be announced within 72 hours. The vote is widely expected to be in favour of independence. Iran and Turkey have vowed that there may be military aggression if the result is 'independence'. Turkey's president has said Iraqi Kurds could go hungry, as a result of the punitive measures it is considering after Monday's independence referendum.
30: A fire at a retirement home in Bucharest, Romania, leaves one person dead and 19 others injured.
October 2017
3: The first summit between Greece, Bulgaria, Romania and Serbia is held in Varna, (Bulgaria).
Photo: mfa.gr
8: The U.S. Mission in Turkey suspends all non-immigration visa services in the country, citing security concerns. In a reciprocal action of retaliation, the Turkish mission in the United States suspends all non-immigration visa services in the country, via a reversed-role copy of the U.S. statement. The Turkish lira (TRY) falls 3.2% intraday on worries for tourism in Turkey.
9: The presiding judge Šaban Maksumić of the Sarajevo Bosnian war crimes court acquits former Bosnian military officer Naser Orić of the charge of killing three Bosnian Serb prisoners of war, during the Bosnian War. In July 2008, the Appeals Chamber of the International Criminal Tribunal for the former Yugoslavia in the Netherlands (in the Hague) acquitted Orić for failing to prevent the deaths of five Bosnian Serb detainees and the mistreatment of eleven other detainees from late 1992 to early 1993.
22: Voters in Slovenia go to the polls to elect their president. Opinion polls predict that the independent incumbent Borut Pahor will retain the largely ceremonial role despite being challenged by noted actor and comedian Marjan Šarec.
25: Floodings in Burgas Province, Bulgaria, claim 3 victims.
November 2017
4: Paradise Papers. Journalists start reporting on the contents of 13.4 million documents leaked from the offshore law firm Appleby, along with business registries in 19 tax jurisdictions that reveal offshore financial activities of politicians, celebrities, corporate giants and business leaders. The German newspaper Süddeutsche Zeitung had previously obtained the documents and shared them with the International Consortium of Investigative Journalists.
12: Slovenian President Borut Pahor, winning nearly 53% of the vote (373,877), is re-elected for a second term in the runoff between the top two candidates from the October, 22, 2017, poll. Marjan Šarec, the other candidate from the original field of nine, received 332,366 votes.
13: Twenty-three European Union countries sign a defence integration pact known as the Permanent Structured Co-operation. NATO members Denmark, Portugal and the United Kingdom (withdrawal from EU underway), and non-NATO members Malta and Ireland, opt out.
15: Strong weather phenomena affect the whole of Greece and causes enormous disasters, especially in western Attica. The bad weather is called "Typhonas Eurydice". The flash floods claim 23 lives.
22: Ratko Mladić, the former Chief of Staff of the Bosnian Serb army during the Bosnian War, is found guilty of genocide, war crimes, and crimes against humanity by the International Criminal Tribunal for the former Yugoslavia and is sentenced to life imprisonment.
24: The White House confirms Turkish Foreign Minister Mevlüt Çavuşoğlu's announcement, that President Donald Trump told Turkish President Recep Tayyip Erdoğan that America is preparing to stop supplying weapons to ethnic Kurdish fighters in Syria.
-Sting, Peter Gabriel, Edward Snowden and Ai Weiwei call for president of Amnesty International Turkey Taner Kılıç to be released from prison.
29: Retired Croatian Army general Slobodan Praljak, upon hearing at a UN tribunal that the international tribunal upheld his war crime conviction, downs vial (apparently )of poison, and later dies in a hospital in The Hague.
Photo: Slobodan Praljak, in the Hague, Netherlands, November 29, 2017/ICTY via Reuters TV attention editors – Image provided by third party
December 2017
2: Heavy rainfall causes flooding in southern Albania. At least one person has died and 3,000 houses have been flooded.
4: Turkey's deputy Foreign minister Bekir Bozdağ warns of a "major catastrophe" if the U.S. moves its embassy to Jerusalem, as planned in the Jerusalem Embassy Act. The last six-month presidential waiver delaying the move was signed on June 1.
5: The last King of Romania, Michael I, dies at the age of 96.
-Turkish President Recep Tayyip Erdoğan tells Donald Trump that Turkey might cut ties with Israel if the United States unilaterally recognises Jerusalem as its capital.
7: The President of Turkey embarks on a two-day state visit to Greece. Recep Tayyip Erdoğan's démarche is a first in 65 years.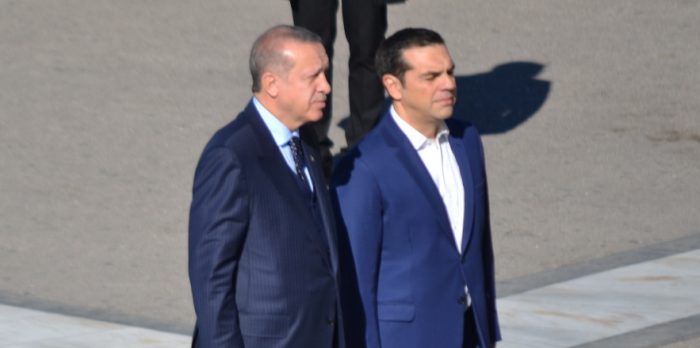 Photo: Recep Tayyip Erdoğan and Alexis Tsipras in Athens/Spiros Sideris
-Peoples' Democratic Party's co-chair Selahattin Demirtaş remains behind bars until the next hearing, scheduled for February 14, 2018. He risks 142 years in prison.
9: The second summit between Bulgarian Romania and Serbia is held in Belgrade (Serbia).
Photo: Lonely Planet
17: Recep Tayyip Erdoğan, the President of Turkey says "the day is close when officially, with God's permission" his nation will open an embassy to Palestine, in East Jerusalem. Eighty-thousand Muslims demonstrate in Jakarta, Indonesia, against the U.S. recognition of Jerusalem as the Israeli capital…/IBNA