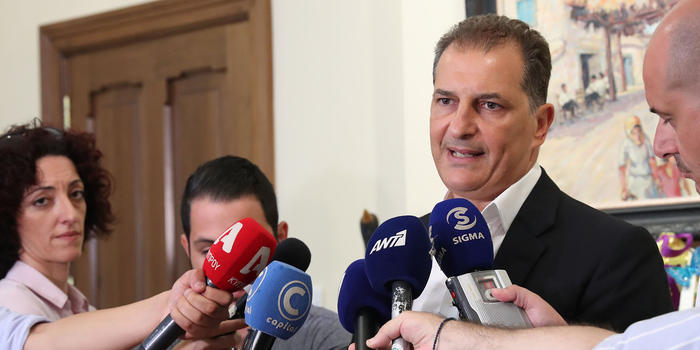 The Cabinet has appointed a negotiating team, which will enter into negotiations with the consortium for the Aphrodite deposit, Energy Minister, Yiorgos Lakkotropis, said on Tuesday.
In his statements to the reporters after the Cabinet meeting in the presidential residence in Troodos, the Minister said that "at the end of December 2017, we were informed by the consortium of the Aphrodite deposit that they have reached a preliminary agreement with the Egyptian Terminal, for sale of natural gas to the managing company, Shell.
But, at the same time, they informed us that because of the reduced international oil prices, the project's finances were not sustainable and they were asking for a revision of the economic conditions currently in the contract. In any case, we, following other letters from the consortium, studied with our consultants and the Cyprus Hydrocarbons Company and the Legal Service all aspects of the matter and examined all the choices we had before us. We concluded that the best option was to try and find a mutually acceptable solution with the consortium to develop the Aphrodite deposit as soon as possible; a development that will bring a lot of economic and geopolitical benefits.
We have informed political parties on the matter, always in the context of transparency, and today, the Cabinet has set a negotiating team, along the lines of what we have done, including in the third round, where we will enter into an institutionalized dialogue with the companies with the intention of arriving somewhere.
We have also committed ourselves to parliamentary parties that after we reach an conclusion and before any agreement is concluded, if it does, we will call them to discuss again the issue in greater detail.
The negotiating team will be composed of the Minister of Energy, the Minister of Finance, the Energy Ministry advisors, the Hydrocarbon Company and the Legal Service, as well as officials from the Ministry of Energy and anyone else deemed appropriate to invite to help with the effort.
This is a very sensitive discussion, so I will ask for the understanding of the media for the immediate period when this debate is held, to limit what we say and write publicly. We will have the opportunity to talk, if and when we reach a conclusion".
Asked if there is a specific timetable, Lakkotropis said that "we would like to reach a conclusion as soon as possible. Having seen all our choices, we have come to the conclusion that the window of opportunity in Egypt and this preliminary agreement is limited, but also the conditions in the hydrocarbon sector are changing almost daily. Beyond that, the course of the discussion will determine the evolution of the negotiations, ie whether we will be able to achieve what the Government has set as a goal".
Asked to comment how much time it takes to transport natural gas to Egypt and when the first money will start to flow to the public funds if there is an agreement, the Minister said that "based on today's planning, we are talking about the first flow of natural gas and, by extension, revenue, in 2022. As time passes, so too the date goes further and for this is why I have stated that it is urgent, it is important for us to come up with a mutually acceptable solution as soon as possible"./IBNA