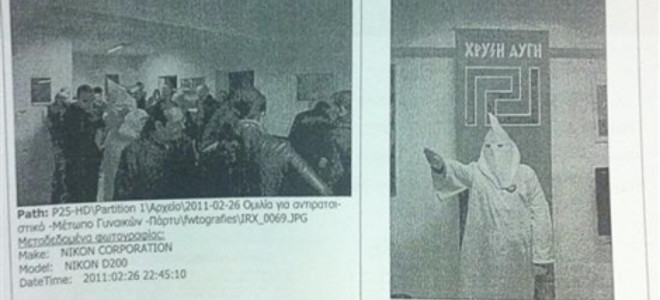 By Spiros Sideris – Athens
New concussive documents are included in the supplementary case file material for Golden Dawn that was handed out by antiterrorist police department to the prosecutors. They reveal in chilling details the activities and aims of the organization. Some of the details include its members posing with the garbs of Cu Clux Clan, Nazi salutes, vows of faith to the Nazi, insults and threats.
New concussive information, with gruesome videos, dialogues and photos with Golden Dawn members wearing Cu Clux Clan garbs with the Golden Dawn flag at the background, scenes with threats, Nazi salutes and confessions regarding the Nazi ideology of the Golden Dawn president Niko Mihaloliako and its members along with other revealing documents are included in the supplementary material that resulted from the antiterrorist police department research that was handed out to the prosecutors Klapa and Dimitropoulou.
It's about an enormous amount of data that resulted from the electronic files, which were confiscated from the computers of Niko Michaloliako, Ilia Katsidiari, Niko Micho, Gianni Lago, and reveal mind blowing material concerning Golden Dawn's structure and organization.
Especially shocking is the part of the case file material, according to which it seems that Members of the Parliament and journalists had been given bribes, since among other things there is a file with the questions that the political party posed in Parliament, in which specific Members of the Parliament are targeted.
More specifically, the Member of Parliament who belongs to the SYRIZA political party, Rena Dourou is being referred to as "SYRIZA's blonde", while there are also photos from the political actions of the Member of the Parliament Konstantopoulou, who is also a member of the SYRIZA political party, but also the documented political actions of known journalists