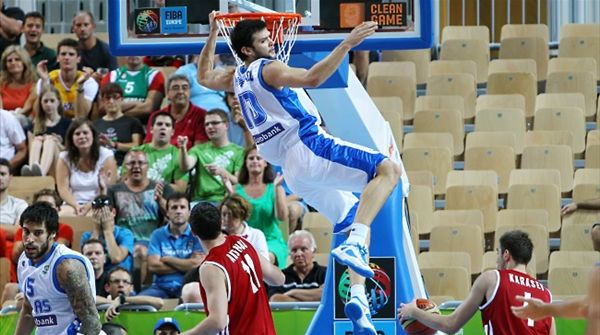 Review by Christos T. Panagopoulos
Greece – Russia 80-71
Greece improve to 2-0 record in Group D of the 2013 EuroBasket. The Greek side overcame Russia 80:71 and kept them winless at the tournament. Although Valiev scored gave Russia 2-0 lead, Greece replied with an 8-0 run to win the opening tip 8:2. Russia bounced back for 16:16 and Khvostov nailed three for 21:16 at the end of the first period. Sergey Monya nailed another one for 27:20, while Greece took the lead after Bourousis 's shot at 30:29. Perperoglou and Fotsis ensured a 31:24 halftime advantage for the favorites. Greece dominated the third period and posted a 21-13 run for 15-point advantage. Perperoglou and Sergey Karasev exchanged the late baskets in the period for 62:47 on the board. Alexey Shved (198-G-88, agency: Alti Sport) and Sokolov reduced to 73:62, while Alexey Shved nailed another 5 in a row for 75:67 with 2 minutes to go. Sloukas later scored three free throws for 78:67 and Zisis added two more for 80:71. Vassilis Spanoulis (193-G-82, agency: Beo Basket) and Kostas Kaimakoglou (206-C/F-83) top-scored for the winners with 11 points each, while Kostas Papanikolaou, Stratos Perperoglou and Loukas Mavrokefalidis shot 10 each. Alexey Shved answered with 17 points in a loss, whilst Sergey Karasev delivered 10. Sergey Monya scored 9 and Vitaliy Fridzon added 8.
Italy – Turkey 90-75
Italy came up with another impressive shooting display that brought them to the victory over Turkey in the second day of action at EuroBasket in Slovenia. Pietro Aradori (195-SG-88) unleashed 23 points going for 9/10 from the field to pace the winners. Turkey slipped at 0-2 record in Group D. Turkey got to a slightly better start. They earned a 17:12 lead midway through the first frame. But Melli, Alessandro Gentile (198-G/F-92) and Marco Belinelli capped the first term with 8 points in a row to give the Azzurri a 22:19 lead. Pietro Aradori and Vitali opened a 9-pont lead for Italy early in the second frame. Marco Belinelli made it a double-digit distance 40:30 late in the first half. Marco Belinelli capped the half with a jumper to make it 44:34 for Italy. The Azzurri just kept on stretching their lead throughout the third period. Pietro Aradori unloaded 17 points in the quarter to give Italy a 74:57 lead at the final intermission. Italy kept Turkey at bay throughout the fourth frame. Alessandro Gentile nailed 10 points in the quarter and carried the Azzurri to a comfortable victory at the end. Alessandro Gentile finished with 20 points, while Marco Belinelli added 17 points for the winners. Omer Asik (213-C-86) and Hidayet Turkoglu (206-F-79) answered with 12 points each for Turkey.
Finland – Sweden 81-60
Finland continued with a perfect form at the 2013 EuroBasket. They registered the second consecutive victory at the tournament beating Sweden. Gerald Lee (208-C-87, college: ODU) knocked down 14 points to pace five players in double figures for the Finnish side. Sweden fell at 0-2 record in Group D. The teams got to a flying start. They teamed up for 54 points in the first quarter. Finland and Sweden entered the second term tied at 27. But Finland cleared off in the second frame. They opened the period with a 10:0 run. Finland stayed held their opponents to just 4 points in the period to accumulate a massive 48:31 halftime lead. Swedish struggles continued throughout the third term. They looked unpersuasive offensively as Finland opened a 21-point lead at the final intermission. Finland never allowed Sweden any close in the fourth period and rallied to the second victory at the tournament. Kimmo Muurinen (202-F-81, college: UALR) chipped in 12 points, while Shawn Huff, Teemu Rannikko and Petteri Koponen netted 10 points apiece for the winners. Jeffery Taylor (200-F-89, college: Vanderbilt) answered with 19 points for Sweden. Jonas Jerebko responded with 12 points in the losing effort.
Source: Eurobasket.com
You may also read:
Results of Group A in Day 2 of Eurobasket 2013, Friday 6 September 2013
Results of Group B in Day 2 of Eurobasket 2013, Friday 6 September 2013
Results of Group C in Day 2 of Eurobasket 2013, Friday 6 September 2013