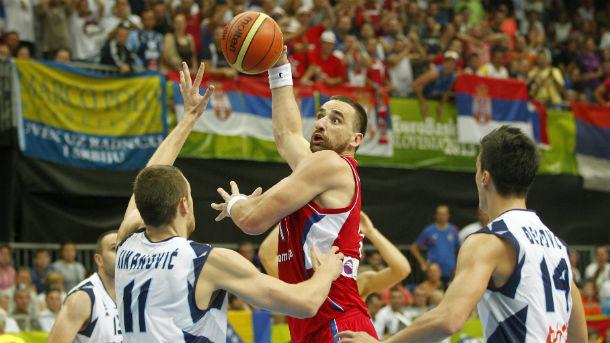 Review by Christos T. Panagopoulos
Lithuania – FYROM 75-67
Mantas Kalnietis (195-PG-86, agency: Interperformances) leads Lithuania past FYROM in a 75:67 win. The Baltic State improved to 1-1 record at the end of 2013 EuroBasket Day 2. Lithuania and FYROM stayed close to each other in the majority of the game. They were tied three times in the first 5 minutes and then Valanciunas brought 11:11 on the board. Motiejunas later closed the quarter at 20:15, while Motiejunas made it 26:17 early in the second frame. Maciulis increased to 34:24 and Javtokas gave Lithuania 39:28 advantage. Stojanovski and McCalebb closed the half at 39:33. Seibutis and Stojanovski scored the first points for their teams in the second half and then Maciulis gave Lithuania 43:35 lead. McCalebb made two free throws to reduce to 49:42 midway through the third period. Lithuania managed to post the same 18-17 rallies in the second half and won the game by 8 points. Kalnietis and Motiejunas ensured the first win of the Baltic State. Mantas Kalnietis stepped up with 17 points and Jonas Maciulis (199-F/G-85) nailed 14. Donatas Motiejunas and Jonas Valanciunas ended up with 11 points each in a win. Vlado Ilievski (190-PG-80, agency: Beo Basket) replied with 13 points in defeat and Pero Antic (210-F-82, agency: Beo Basket) scored 12. Bo McCalebb produced 11, while Todor Gechevski shot 8.
Bosnia – Serbia 67-77
Serbia celebrated the second consecutive victory at the European Championship in Slovenia. They held off Bosnia and Herzegovina for 2-0 record in Group B. Stefan Markovic (194-G-88) nailed 15 points to pace the winners. Bosnia and Herzegovina suffered the second straight loss at the tournament. It was all Serbia in the opening quarter. Bosnia struggled to contain their opponents. Serbia accounted for 28 points in the opening ten minutes and gained a 12-point lead. Serbia opened a 17-point lead early in the second frame. Mirza Teletovic (206-F-85, agency: Beo Basket) and Sinanovic dragged Bosnia within 10 points 31:41 late in the first half. But Rasko Katic (208-C-80, agency: Beo Basket) and Stefan Markovic answered with four points in a row establishing a 45:31 halftime lead for Serbia. Dusan Ivkovic team opened the second half with 11 points in a row to boost the lead. They kept Bosnia at distance throughout the period. The Bosnian side entered the final stanza down by as many as 15 points 49:64. Persic, Kikanovic and Mirza Teletovic trimmed the gap at 10-point mark 58:68 midway through the fourth frame. But Serbia quickly bounced back to balloon the margin to 16 points and never looked back en route to the victory. Rasko Katic finished with 12 points, while Nemanja Nedovic provided 11 points, 6 assists and 4 boards in the win. Mirza Teletovic answered with 16 points for Bosnia and Herzegovina. Nihad Djedovic topscored with 17 points in the loss.
Montenegro – Latvia 72-73
Kristaps Janicenoks (196-F-83) sank a jumper with 6 seconds remaining in regulation to propel Latvia past Montenegro in the second round of preliminary action at 2013 EuroBasket. Latvia improved at 2-0 record in Group B ladder. Montenegro fell at 1-1 record after the loss. Kristaps Janicenoks finished with 15 points to pace the charge. The teams exchanged blows throughout the opening frame. Neither side was able to clear off. The lead changed hands before Bjelica tied it at 17 after ten minutes. Montenegro used a 6:0 run midway through the second term to gain a 36:31 lead. But Latvia responded with a 6:0 run of their own to pull in front. Tyrese Rice (185-PG-87, agency: Priority Sports, college: Boston Coll.) sealed the first half outcome at 37:37. Rolands Freimanis (210-PF-88) and Berzins gave Latvia 48:41 lead early in the third period. Montenegro narrowed the gap but the Baltic team secured a 54:52 lead heading into the fourth period. Montenegro went on a 13:0 rally to snatch a 67:59 lead with just over five minutes remaining. Latvia responded with nine unanswered points to regain the lead. Tyrese Rice converted a three-point play to give Montenegro a 72:71 lead with 11 second to go. But Kristaps Janicenoks responded with a decisive bucket and sealed the win for Latvia. Rolands Freimanis finished with 12 points, while Dairis Bertans and Rihards Kuksiks had 8 points each for the winning side. Tyrese Rice responded with 24 points for Montenegro. Blagota Sekulic had 13 points in the loss.
Source: Eurobasket.com