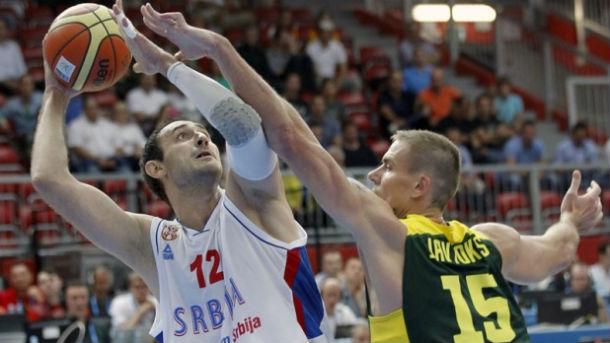 Review by Christos T. Panagopoulos
Serbia – Lithuania 63-56
Serbia overcame the Baltic State in Day 1 of the 2013 EuroBasket. Serbia posted a 63:56 win in their opener. Serbia started the game with 5 consecutive points and Nedovic later brought 11:5 lead. Markovic and Krstic increased to 31:20, while Mantas Kalnietis (195-PG-86, agency: Interperformances) reduced to 31:23 midway through the second period. Mantas Kalnietis and Darjus Lavrinovic (212-C-79) closed the first half with some important baskets for 33:27. Seibutis and Mantas Kalnietis nailed threes early in the third period to tie the game at 33:33. Serbia meanwhile replied with some important baskets and again went on a lead. Bjelica nailed three for 49:37 lead, while Darjus Lavrinovic reduced to 10. Krstic and Nedovic opened the last period for 55:41 as Lithuania later remained scoreless for a long time. Nedovic brought 56:41 and only then Linas Kleiza (203-SF-85, college: Missouri) broke the silence after 5 minutes in the fourth period for 56:43. Maciulis cut it again to 10 points with 5 minutes to go, while Linas Kleiza and Mantas Kalnietis made it 56:51. Andjusic and Krstic however gave Serbia 60:53, while the difference remained the same at the end of the game. Krstic top-scored for the winners with 20 points and Nedovic netted 14. Bjelica shot 13, while Katic chipped in with 6. Mantas Kalnietis ended up with 17 points in a loss and Darjus Lavrinovic delivered 12. Seibutis and Linas Kleiza followed them with 8 points each.
FYROM- Montenegro 80-81
Montenegro snatched a narrow win over FYRΟΜ in the Balkan derby in the first round of EuroBasket. Tyrese Rice (185-PG-87, agency: Priority Sports, college: Boston Coll.) sank two free throws with 10 seconds to go in regulation to clinch the victory. It was an exciting battle of archrivals from start to finish. Montenegro eked out a 25:24 lead after a high-flying first quarter. Dasic gave Montenegro a 43:32 lead midway through the second term. But FYROM capped the first half with 10 straight points to eke out a 46:45 lead. The lead changed hands for several times throughout the third term. FYROM cleared off to a 6-point lead but Milko Bjelica capped the period with four consecutive points to put Montenegro within three 64:67. FYROM opened a 7-point lead midway through the fourth term but Montenegro stuck around. Sekulic and Tyrese Rice put them within one 77:78 with under two minutes remaining. Bo McCalebb (178-PG-85, college: New Orleans) converted a layup for an 80:77 lead but Tyrese Rice answered with four free throws giving Montenegro the decisive lead. Bo McCalebb and Chekovski had chances to save the game for FYROM but missed their attempts in the dying seconds. Suad Sehovic and Tyrese Rice finished with 16 points apiece for Montenegro. Milko Bjelica added 12 points for the winners. Bo McCalebb answered with 23 points for FYROM. Damjan Stojanovski had 19 points in the loss.
Latvia – Bosnia 86-75
Latvia got to the winning start of EuroBasket campaign. They overcame Bosnia and Herzegovina in Jesenice. Rolands Freimanis (210-PF-88) nailed 24 points before fouling out to lead the charge. Latvia and Bosnia and Herzegovina exchanged baskets throughout energetic first quarter. The lead changed hands for several times before Rolands Freimanis tied it at 20. Latvia opened the second quarter with six straight points to pull ahead. The Baltic team maintained the lead throughout the second quarter. Rolands Freimanis made it 43:33 for Latvia at halftime. Latvia maintained the lead throughout intense third quarter. Though Mirza Teletovic (206-F-85, agency: Beo Basket) put Bosnia and Herzegovina within three but Rihards Kuksiks capped the quarter with a jumper to make it 62:57. Latvia quickly stretched the lead to 8 points in the fourth frame. The gap grew at 11-point mark midway through the final stanza 74:63. Latvia never looked back in the dying minutes and cruised to the victory. Rihards Kuksiks nailed 13 points, while Kristaps Janicenoks (196-F-83) added 12 points for the winners. Mirza Teletovic answered with 18 points and 8 rebounds for Bosnia and Herzegovina. Nihad Djedovic (198-F-90, agency: Beo Basket) topscored with 19 points in the loss.
Source: Eurobasket.com