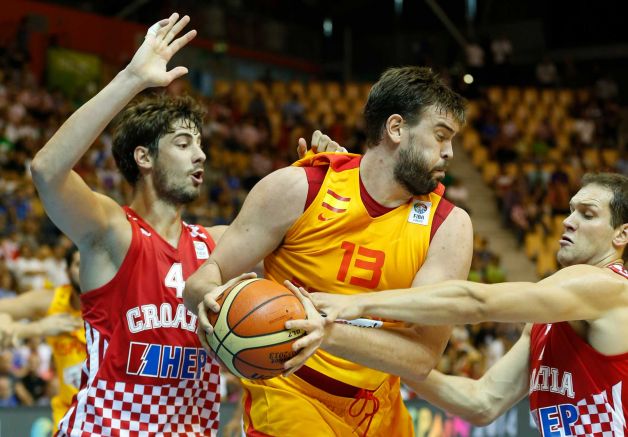 Review by Christos T. Panagopoulos
Czech Republic – Slovenia 60-62
Czech Republic gave a tough fight to hosting Slovenia before falling short in the opening day of 2013 EuroBasket. Jure Balazic scored 11 points and grabbed 8 rebounds to lead the hosts to a narrow victory in Group C. Slovenia led throughout the bigger part of the first frame but could not clear off. They gained a narrow 21:19 lead ten minutes into the game. Tomas Satoransky and Barton erased the deficit late in the first half. They tied things up at 32. But Jaka Blazic and Jure Balazic gave Slovenia 36:32 halftime lead. Goran Dragic and Jure Balazic made it 45:36 for the home side midway through the third term. Czech Republic stayed in the contest as they trailed by just 5 points heading into the fourth frame 46:51. Barton narrowed the deficit at 2-point mark 52:54 midway through the final stanza. Welsch finally leveled things up at 60 with under two minutes remaining in regulation. Zoran Dragic (196-F/G-89) split free throws to give Slovenia a one-point lead. Tomas Satoransky missed his attempt but Bostjan Nachbar (207-PF-80) could not connect from the stripe giving another chance for the visitors. Welsch also came up empty and Bostjan Nachbar secured a 62:60 lead for Slovenia. Barton then committed a turnover and the hosts escaped with a slim victory at the end. Jaka Blazic and Bostjan Nachbar notched 9 points each for the winners. Jan Vesely responded with 17 points for Czech Republic. Tomas Satoransky had 12 points in the loss.
Georgia – Poland 84-67
Georgia beat Poland in the opener of Celje Arena at the 2013 EuroBasket. They posted a comfortable an 84:67 win in Slovenia. Georgia started the game with a 9:6 run as Manuchar Markoishvili drove a lay-up. Giorgi Shermadini and Burjanadze later scored for 20:14 to close the first period. Georgia did not look back anymore. They added 19-8 rally in the second period and grabbed a massive 39:22 lead at the halftime. Poland kept Georgia scoreless in the first 4 minutes of the third period and reduced to 41:26. Manuchar Markoishvili meanwhile scored for 52:35 and then Tskitishvili nailed three for 20-point advantage. Zamojski and Viktor Sanikidze (203-F-86) exchanged the long-range shots early in the fourth period for 59:40 on the board. The latter nailed another one for 22-point lead, while Maciej Lampe (211-F/C-85) reduce to 62:42. Maciej Lampe scored 4 in a row later in the period for 70:51, while Georgi Tsintsadze (192-PG-86) and Hickman brought Georgia in front at 75:51. Karnowski and Manuchar Markoishvili exchanged the baskets for 79:54 and Koszarek made two free throws for 79:56. Karnowski reduced back to 20, while Hickman made it 82:61. Viktor Sanikidze stepped up with 23 points and Manuchar Markoishvili netted 18. Giorgi Shermadini delivered 13, while Georgi Tsintsadze posted 11. Marcin Gortat brought 12 points in defeat and Przemyslaw Zamojski as well as Maciej Lampe had 10 each.
Spain – Croatia 68-40
Spain had little problems in their opening game at 2013 EuroBasket. They knocked down Croatia in Group C in Celje. Rudy Fernandez (198-SF-85) scored 15 points and grabbed 8 rebounds to pace the winners. It was a tough test for Croatia right from the start. Spain opened the game on a full throttle. They nailed 24 points in the starting quarter posting a 15-point lead. Spain cruised throughout the second frame. They piled up a 33:20 halftime lead. The Spaniards opened an 18-point lead late in the third period before Croatia went on a 6:0 run to narrow the deficit. However Spain tipped off the fourth frame on an 11:0 rally and never looked back en route to the victory. Marc Gasol (216-C-85, agency: Interperformances) had 14 points and 11 boards, while Jose Manuel Calderon netted 13 points in the win. Bojan Bogdanovic (203-SG-89, agency: XL Basketball Agency) answered with 12 points for Croatia. Luka Zoric (211-C-84) had 8 points in the loss.
Source: Eurobasket.com