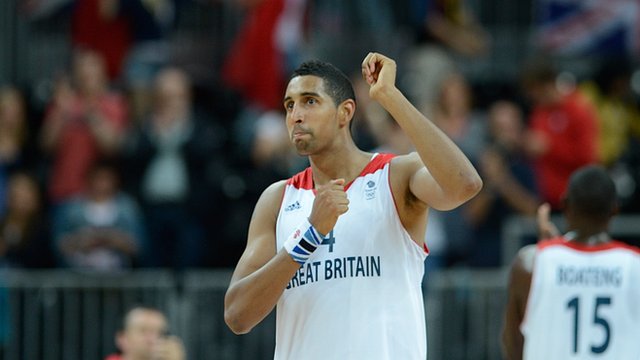 Review by Christos T. Panagopoulos
France – Germany 74-80
Germany shock France in Ljubljana. France needed to overcome a slow start to catch up with Germany in their opener. The latter did not slow down at the end and grabbed a thrilling 80:74 win. The teams were tied at 12 points each, when Germany pushed the tempo in the first quarter and dominated the court. Zirbes scored for 20:14 and Benzing closed the first period at 27:14. France erupted with a 9-0 run in the start of the second period and cut it to 23:27, while Alexis Ajinca (215-C-88, agency: Priority Sports) reduced to the minimum at 31:32. Benzing and Staiger however gave Germany 27:31 lead with 2 minutes to go in the first half. Parker and Gelabale scored from the long distance for 37:39 and Heiko Schaffartzik (183-PG-84) was the last to score at the half for 43:39. Staiger and Heiko Schaffartzik gave Germany 47:41 early in the third period, while Benzing later scored for 53:47. Zwiener netted two for 55:47 and Heiko Schaffartzik increased the lead to 10 points. Parker scored four points in a row for 57:51, while Diot nailed three at the end of the third period for 57:56. He gave France a 59:57 lead early in the last stanza when he nailed another three-pointer. Giffey and Pleiss tied the game at 61:61, while Diaw scored two for 65:64. Pleiss put Germany again in front at 67:65 as France needed timeout with 4 minutes to go in the quarter. Batum scored five points in a row for 70:67 lead, but Benzing and Staiger tied the game at 72:72. Staiger and Benzing nailed another threes for shocking 78:74 lead with 19 seconds to go. Benzing made two free throws at the end of the game for the final result. Benzing top-scored for the winners with 19 points and Staiger as well as Giffey had 14 each. Heiko Schaffartzik produced 12, whilst Pleiss had 11. Parker delivered 18 points in a loss, whilst Gelabale netted 11. Nando De Colo (196-SG-87) and Batum followed them with 9 points apiece.
Belgium – Ukraine 57-58
Ukraine came from behind in the dying seconds to claim victory over Belgium in the opening game at 2013 EuroBasket. Jeter Pooh (180-PG-83, college: Portland) converted a three-point play with less than four seconds remaining in regulation to propel Ukraine to a tough victory. Belgium opened the game with five straight points. Ukraine answered with six consecutive points to surge ahead. The lead changed hands for several times before Moors gave Belgium a 12:11 lead. Belgium used a 7:0 run early in the second quarter to make it 19:12. The gap grew at 13-point mark 33:20 late in the quarter. But Sergii Gladyr (196-SG-88) narrowed the gap at 10-point mark 26:36 at halftime. Belgium stayed in front throughout the third term. They entered the fourth period up by 8 points 48:40. Olexandr Mishula helped Ukraine to narrow the gap at 2-point mark midway through the fourth frame 52:54. Sergii Gladyr tied things up at 55 moments later. However Christophe Beghin sank a jumper to put Belgium up by two 57:55. But Jeter Pooh stepped up for Ukraine in the crucial moment and sealed the victory. Igor Zaytsev notched 16 points to pace the winners. Sergii Gladyr had 11 points, while Olexandr Mishula finished with 9 points in the win. Christophe Beghin answered with 14 points for Belgium. Jonathan Tabu chipped in 13 points in the defeat.
Israel – United Kingdom 71-75 OT
Great Britain celebrated the first victory at the EuroBasket in Slovenia. They outlasted Israel in an overtime drama. Kyle Johnson (195-G-88, agency: SportsTalent, college: LIU Brooklyn) scored 22 points and grabbed 6 boards to pace the winners. Great Britain surprised their opponents in the opening frame. The Brits went on a 22:17 run to surge ahead. Israel stiffened defensively in the second quarter. They held Great Britain to just 12 points and cut the distance to 4 points 30:34. Israel pulled ahead in the third term. They went on a 22:13 run to enter the fourth period up by 5 points 52:47. But Israel just gave away the win in the final minutes of regulation. They enjoyed a 64:56 lead heading into the final five minutes of it. Eliyahu and Omri Casspi missed six free throws in the dying minutes allowing Great Britain to level things up at 66 at the end of normal time. Halperin and Ohayon made it 71:67 for Israel early in the extra period. But Great Britain went on an 8:0 run to snatch the victory at the end. Kieron Achara (208-PF-83, agency: Two Points, college: Duquesne) finished with 18 points and 13 boards, while Myles Hesson (195-F-90) added 14 points for the winners. Omri Casspi answered with 13 points and 11 rebounds for Israel. Afik Nissim topscored with 17 points in the loss.
Source: Eurobasket.com