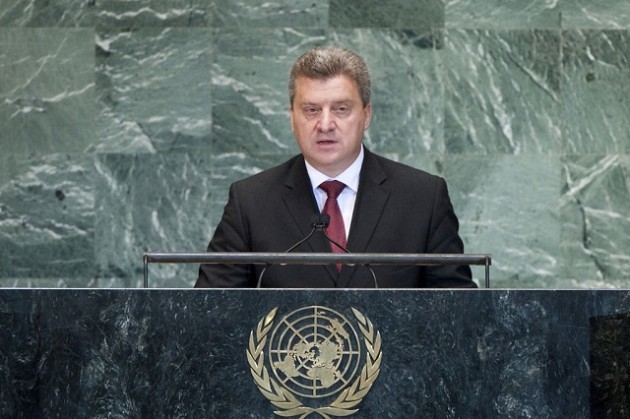 Skopje, September 25, 2014/Independent Balkan News Agency
By Naser Pajaziti
President of FYR Macedonia, George Ivanov delivered a speech at the Security Council of the United Nations, called by president Barack Obama in order to face the growing threat of terrorism. In his speech, Ivanov also talked about the challenges being faced by his country and the name dispute with Greece.
Ivanov called upon the USA and European Union not to neglect the Balkan as far as security and integration is concerned.
President Ivanov also demanded the Resolution approved at the UNO Security Council on the solution of the name dispute to be respected.
Ivanov considered Greek policy toward FYROM as a threat for the stability in the region. Ivanov demanded from the UN to respect the decision of the International Court of Justice and not to block the accession of FYROM in the NATO, due to the name dispute.
"With the unlawful blockade of the accession of Macedonia in the NATO, a serious blockade is being made to peace, security and stability in the Balkan. First we were blocked by the UN due to the name, but today we're facing a blockade by NATO and EU, not only about the name, but also about the language and identity of our citizens. The blockade comes as a result of failing to comply with resolution 817 and 845 of 1993 approved by the Security Council", declared Ivanov.
Ivanov also stopped on the policies of the European Union toward Western Balkan.
"European Union must not forget that the Balkan is part of Europe and that by delaying expansion, it causes problems in its territory. It's necessary to integrate all the countries of Western Balkan in the European Union. Ladies and gentlemen, there's no point for further delays in the European and European Atlantic incentives now. Our region is as sensitive as Europe is", declared president Ivanov at the Security Council. /ibna/