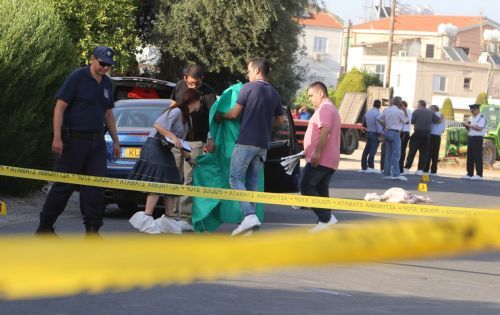 By Kyriacos Kyriacou-Nicosia
Cyprus reservists, around 70 000, will not be banned from taking home their army weapons, the Defence ministry reassured after a man shot and killed his ex wife and nine-year-old daughter, critically injured his son, 14, and turned his army assault rifle G3 on himself and committed suicide. The incident was a shock to the small society of Eastern Mediterranean island (around 700 000 population in the government controlled area).
After a meeting to discuss the shooting, Defence Minister Christoforos Fokaides, said: "The reason that first led us 20 years ago to introduce the practice is still here… meaning the Turkish occupation… so we cannot rescind it. "What matters is not the means to a crime but the reasons behind it, he added.
Shocking incident
On Wednesday afternoon, Andreas Pittis, 41, used the military-issue G3 rifle to shoot his estranged wife Margarita, 35, through the front windshield of her car as she sat in the driver's seat. The car was parked outside his parent's home in Strovolos.
The two children tried to run but Pittis gunned down his small daughter in the street and then chased his son to a nearby plot where Pittis shot him twice from behind, injuring the boy in the lungs and leg. Standing over his son's body, Pittis then took his own life.
The boy is currently at Nicosia General. Doctors said he was in a stable condition and they were discussing taking him off the ventilator. "With caution I can tell you that the child is out of danger," said Intensive Care Unit chief, Dr Theodoros Kyprianou.
Crime will still exist
The fact that the killer used a military rifle to carry out the murders sparked an outcry with calls for reservists to return them.
Fokaides openly admitted that there was no certain way to ensure that military rifles would not be used in future crimes. "We have to be honest with society. Regardless of how many measures we take, we cannot stop army rifles from being used in criminal activities," he said.
The Defence minister also argued that even if they recalled every reservist gun, people would still find a way to kill. "Our aim is to minimise danger," said the minister, following a meeting with representatives from the National Guard and the police to come up with ways to better monitor weapons given to reservists.
The Defence ministry gave one week to all relevant authorities to report on how many of the measures decided by former Defence Minister Photis Photiou had been implemented.