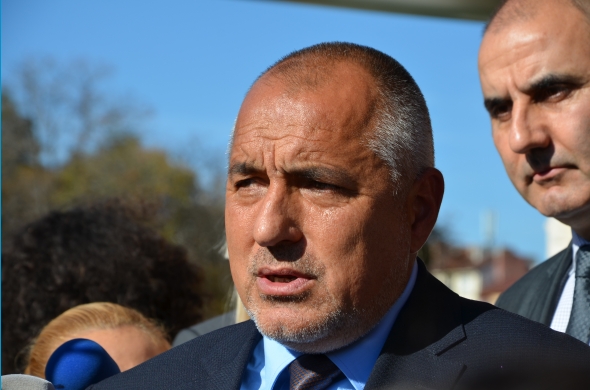 By Clive Leviev-Sawyer of The Sofia Globe
The announcement by Bulgaria's centre-right GERB party leader Boiko Borissov that four parties were to be invited to second-round talks on the formation of a new government has drawn reserved responses among those parties.
From October 13 to 19, GERB, winner of the most votes in the early parliamentary elections, held first-round talks with six out of the seven other parties elected to the 43rd National Assembly. The seventh party, Ataka, declined to attend the talks.
On October 20, Borissov said that the four parties that GERB had decided at a national meeting to hold second-round talks with were the centre-right Reformist Bloc, the Bulgarian Socialist Party, nationalist coalition the Patriotic Front and socialist breakaway ABC.
Two of the leaders of constituent parties of the Reformist Bloc, Meglena Kouneva and Radan Kanev, appearing together in a show of unity in spite of their differences over working with Borissov, indicated that the GERB invitation would be accepted.
First-round talks between GERB and the Reformist Bloc went on for six hours but ended inconclusively.
Kanev said after the October 20 of the future parliamentary group of the Reformist Bloc that the bloc was "very unified" while Kouneva said that the bloc would go to the talks with a list of requirements. "It is a question of consultations and I am sure my colleagues will do very well".
The BSP was due to hold a news conference on October 21 at 2pm.
However, appearing on breakfast television on October 21, Kristian Vigenin, who is to be a BSP MP, said that the party would respond to the GERB invitation.
Vigenin said that there was no external pressure on the BSP to form a government with GERB at any cost. "On the contrary, I meet with party structures and they warn that we should be careful because the BSP should not enter into such a coalition."
He said that currently it was difficult to speak about supporting a future centre-right government "because we do not know what the programme of this government is".
Vigenin said that he could not say "yes or no", adding that the BSP would be a constructive opposition and would support important government decisions.
The Patriotic Front were laconic in their response, saying that there was no change in their position, that they wanted a sound government with a programme that would get as much support as possible.
Front co-leader Krassimir Karakachanov told public broadcaster Bulgarian National Television that at second-round talks, there would be discussions of the Patriotic Front's 10-point programme.
ABC, which will have 11 seats in the 240-seat National Assembly, continues to insist that there should be a broad coalition, including GERB, the BSP and others who accept this formula. ABC would join such a coalition. Alternatively, there would be a centre-right government.
Ivailo Kalfin, elected an ABC MP, said, "It's becoming a beauty contest, these negotiations on forming a coalition".
"We think it makes no sense to have a second round of negotiations if they say the same things that were said in the first round. In reality, there are two options facing Bulgaria and the GERB leader must decide which way to go".
Kalfin said that ABC would not support a centre-right coalition of GERB, the Reformist Bloc and the Patriotic Front because this would not result in the stability needed.
Political reality did not promise the next government a long life, he said. Any coalition that did not include the BSP was just an attempt to get enough seats to govern, would be unstable and would fail, Kalfin said.