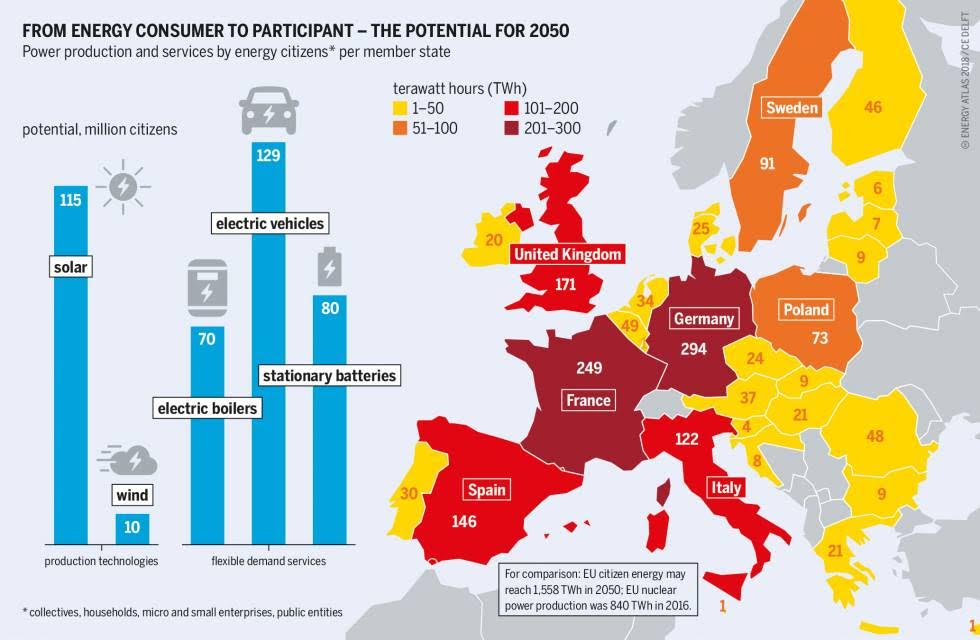 The "energy citizens", the ordinary citizens who decide to influence the EU's energy mix by installing decentralised power plants or forming energy cooperatives, according to forecasts, in 2050 are likely to produce twice as much energy as nuclear power plants are currently producing!
The leader of these small "clean energy" projects is Denmark, as 74% of the country's energy derives from RES. This potential supports government choices, such as licensing wind energy projects, only if the developers and developing companies belong at least by 20% to the local communities.
But in the rest of Europe, "energy citizens" play an increasingly important role. In Germany, for example, the energy produced in 2017 by "small" photovoltaics is equivalent to 79 TW of the overall electricity!
Interconnectivity across Europe in the meantime will contribute to the realization of this energy transition, as demonstrated by the report "Energy Atlas: facts and figures on renewable energies in Europe" endorsed by the European Renewable Energies Federation, Friends of the Earth Europe and the Green European Foundation. Furthermore, the report also argues that this transition is an opportunity for Europe to become the world leader in RES, thanks to the initiatives of citizens and energy cooperatives.
Further disagreements…
As far as the European Parliament is concerned, it insists on its inclusion of ships, cars and airplanes in the European energy saving targets for 2030, despite the fact that some Member States are systematically refusing to accept the binding nature of the targets as recorded in the so-called "Clean Energy Package".
The same goal, however, of energy saving is a thorn in the negotiations, with Bulgaria, which has assumed the EU presidency, placing it at 31-33%, closer to the 35% target voted in January, while the European Council has set a 30% target.
Pioneer in the Balkans…
Albania is part of the global efforts to address climate change on promote the transition to low carbon economies worldwide, including those taken in framework of Western Balkans region.
The new Albania's Power Sector Law and followed legislation in sustainable energies has provided direction for long-term planning in the energy sector that reflects the development goals of the country.
The new Res law has tightened the objectives for the energy sector achieving a 38% renewables target by 2020…. / IBNA