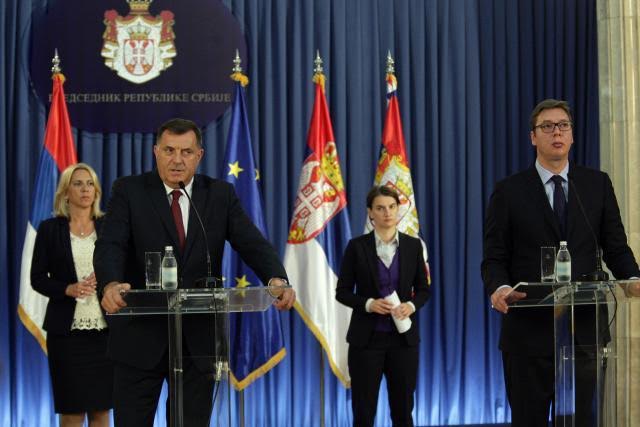 Experts from Republika Srpska and Serbia are trying to finishing writing the final version of the document titled "Declaration on survival of the Serb nation" which would be signed within the next few weeks.
The Declaration should include the right to use the Serbian language and the Cyrillic alphabet, the right to study and nurture Serbian culture, the right to study Serbian history and foster the Serb freedom-loving tradition, the preservation of national geography, the right to preserve and protect the Serbian cultural and historical heritage, and the right to be informed in the Serbian language. Republika Srpska President, Milorad Dodik, earlier said that the text of the joint Declaration has been agreed between the two sides and that both parliaments would adopt it until the Candlemas Day, the Statehood Day of Serbia.
Deputy Speaker of the Republika Srpska National Assembly, Nenad Stevandić, said on Friday to the media that he expects a joint Declaration to be fully supported by the whole society. Stevandić believes that, before forwarding it to the parliamentary procedure, the expert public should give an opinion on the joint Serbia-Srpska declaration on the survival of the Serbian people, thus, contributing to the adoption of this important document.
"The document should be available to the general public before it is sent to the parliament. This is a significant act and it is therefore necessary that everyone fully contributes to its adoption," said Stevandić.
He has stressed that due to its importance, this document should be adopted in a special assembly session.
"Such an important document is not issued every year and therefore everybody should be informed about its content – (the) professional public, the Academy of Science and Art, the War Veterans Organisation, the non-governmental sector," Stevandić stressed.
The idea about the adoption of this document in the parliaments of Serbia and Republika Srpska was announced in the middle of 2017 and gathered a wide support in RS, but some opposition parties in Serbia said that they will not join the other parties in this case. In Republika Srpska, the opposition announced that the Declaration will have their support but it is for sure that Bosniak and Croat MPs will be against adopting it…/IBNA