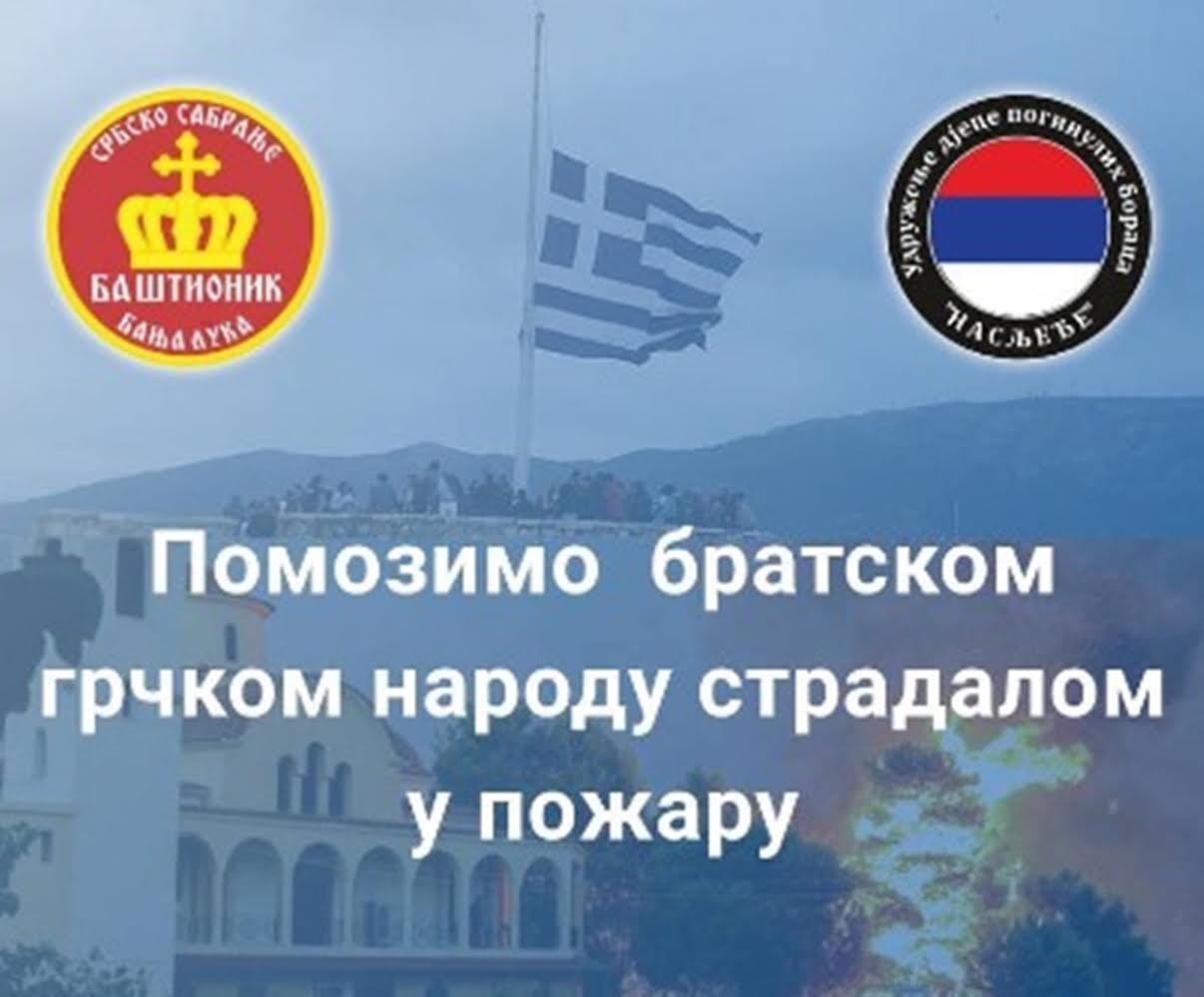 Several organisations, citizens' associations and political parties began fund-raising campaigns to collect money and clothes to help Greek citizens who lost everything in the recent Attica wildfires, a week ago.
The main reason for this campaigns is the fact that Serb people in Republika Srpska do not to forget the humanitarian help Greece's citizens sent to them during the war in BiH in 1992-1995.
"Greek people helped us when we needed it, now it is time we help them back", is the motto of all these campaigns.
The Association of children of fallen Serb soldiers "Nasljeđe" from Trebinje and the Serbian association "Baštionik" from Banja Luka are the organisers behind one of the campaigns. As "Naslijeđe" announced, via the Athens Archbishopric of the Greek Orthodox Church account, the aid will be used for food, medical treatment, restoration and construction of houses and other needs of the people who are suffering the consequences of the deadly fires.
"Now we have that obligation to help. Greek citizens accepted us during the war, many became great friends", said Dobroslav Slijepčević of "Naslijeđe".
Donations for the people of Greece are also organised in the dioceses of the Serbian Orthodox Church. Meanwhile, the Red Cross of Republika Srpska began raising funds for the vulnerable population of Greece. The Red Cross recalls the aid Greek people sent to citizens of Republika Srpska after the destructive and extensive floods of 2014.
The "United Srpska" political party also launched an initiative for a humanitarian campaign titled "Let's Help Greece", with the same purpose.
Deputy President of the party, Natalija Trivić, stated that the action will last from Monday, August 6th, to September 1st. She stressed that the party will not collect money but rather clothes and aid packages of everyday basic necessities. She expressed the hope that the people of RS will show their human face towards the Greeks and Greece, who have been severely traumatised and deeply affected by the major and catastrophic fires in the wider region of Athens.
Trivić urged all interested parties by saying: "We call on all the relevant institutions and organisations, Civil Protection of the Republic of Srpska, governmental and non-governmental organizations, economic and political subjects and citizens, to actively participate in the collection campaign, so that we can jointly help the people of Greece."
United Srpska Secretary General, Neven Stanić, reminded that RS and Greece have multiple links and close co-operation, and that the Greeks during and after the war sent thousands of tons of humanitarian aid to Serbs in Republika Srpska, financed the children of killed soldiers and socially vulnerable families, built schools and churches, while Greek families hosted a large number of children who either needed a break outside their war-torn country or to forget (to the extent that something like this is possible) that they had become orphans because during the conflict and because of it.
"There are several twin towns in Srpska and Greece", Stanić reminded, stressing that the good people of Greece should not be forgotten, such as Archimandrite Partenius, father Ermolai Masaras, former Minister of Education of Greece, George Papandreou and many others…. / IBNA