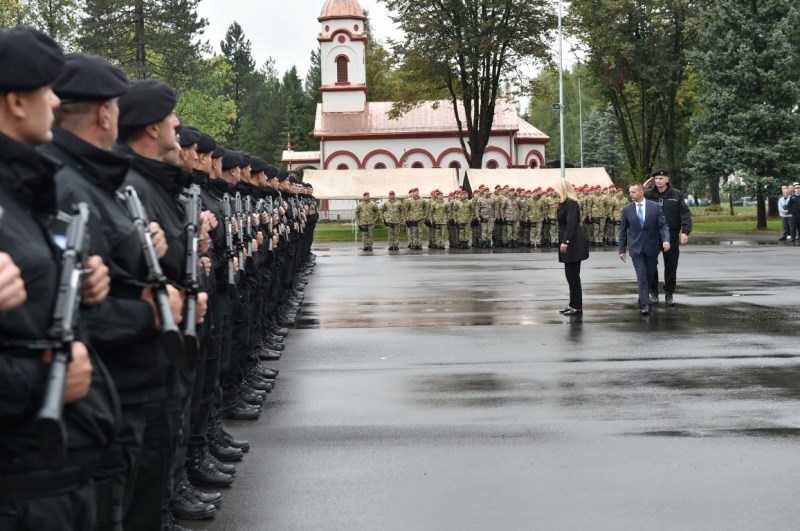 Despite the criticism of several international organizations and politicians from Bosniak parties, the Ministry of interior affairs of Republika Srpska introduced on Tuesday the Gendarmerie unit, as a new formation of the police in this Bosnia and Herzegovina entity.
The line-up ceremony took place in the barracks near Banja Luka was attended by the entire RS leadership, including Serb member of the BiH Presidency, Milorad Dodik. He stated that the newly formed unit is highly versatile and can be used regardless of the challenges it faces.
"The gendarmerie is an operational unit which can be used on various tasks and it is mobile, not stationary. We are developing modern police forces similar to those in the West. What's important to me is that I received positive messages from people throughout the RS for the way we organised this because it gives the people a sense of security, and that's important to us", Dodik said.
He added that "this is also a message that we are ready to face all challenges that may potentially come from any side, such as a threat to the constitutional structure or security of any of our citizens."
RS President, Željka Cvijanović, said that this represents a great step forward in the strengthening of the RS Interior Ministry.
"I wish no one ever had to use force and arms, I wish we could build hospitals so we wouldn't have sick people, but unfortunately, the world is different… We must work towards strengthening our institutions and the capacity to have a safe, stable and secure RS, and in order to be such a republic, we must be stronger economically and financially, we must protect the political stability of our institutions and we must strengthen our general safety every day", she noted.
On the other hand, Bosniak Vice President of Republika Srpska, Ramiz Salkić, said that there is no doubt that the new unit will serve to protect and implement certain political ideas and goals.
"A well trained and well-equipped unit, regardless of the fact that it has fewer police officers, can be a lot more dangerous if abused by the system or an interest group," Salkić argued.
Minister of interior affairs of the Federation BiH, Aljoša Čampara, said that the RS gendarmerie's line-up is an unsuccessful attempt to get out of an awkward situation with the failure to form an auxiliary unit in this entity.
He explained that the RS Interior Ministry did not expand its capacity, but formed a new unit out of the existing employees.
What is certain is that the new police unit can help the BiH Border Police in the protection of state borders against illegal migrants, but it could also prove to be an issue that could be used against RS in political disputes with Bosniak politicians./ibna