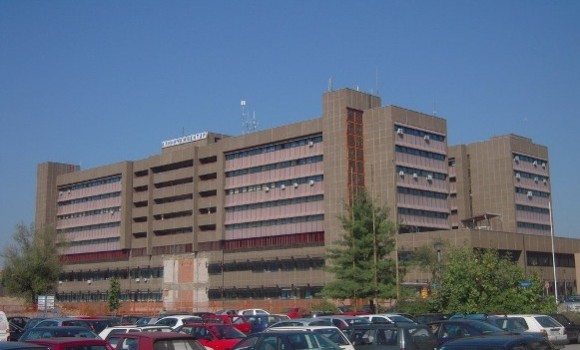 By Mladen Dragojlovic – Banja Luka
In next 42 months the austrian company "Vamed" will finish one of the largest reconstruction jobs in healthcare system of Republic of Srpska (RS); the University hospital – Clinical center of Banja Luka.
This is specified in the contract for the reconstruction, which was signed at Tuesday in Banja Luka. The contract was signed by RS Minister of health and social care, Dragan Bogdanic, and general manager of "Vamed" company, Gerhard Reiter. The ceremony was attended by president of RS, Milorad Dodik, and prime minister, Željka Cvijanovic.
The contract foresees the reconstruction of 41,000 square meters of the central medical block in the present building, as well as a new 1,700 square meters wing called North wing. The reconstruction include all present clinics and areas with three levels that were never finished.
"The signing of this contract is maybe the most important event in the last, I could say, 50 years, because after the reconstruction and construction of additional wing, we will have a modern, respectable healthcare institution, which will be the bringer of the development of healthcare in RS", said after ceremony minister Bogdanic.
He emphasized that RS, after completion of all works, will have quality professionals, quality and modern medical equipment and accommodation for patients, all in one place.
Banja Luka Hospital manager, Mirko Stanetic, told the media that the signing of this contract fulfills the 50-year old dream to gather all services, clinics and institutes on one place.
"A modern hospital in one location will significantly improve our work", said Stanetic.
General manager of "Vamed" company, Gerhard Reiter, said after the ceremony to media that this company is honored to work on the project.
"We have a big job ahead of us, considering the fact that the new hospital must be built with the old hospital remaining operational at the same time", said Reiter.
The works on the reconstruction and equipping of the central medical block and the construction of the new north wing of the Hospital will be financed with a loan from the European Investment Bank, which had been approved for a period of 20 years with a grace period of 10 years, and an interest rate of 1.5 percent. The total worth of the works is about 42 million euros, plus VAT. This will be provided from the RS Budget, which means that system of healthcare in RS will not be burdened with the repayment of the loan.