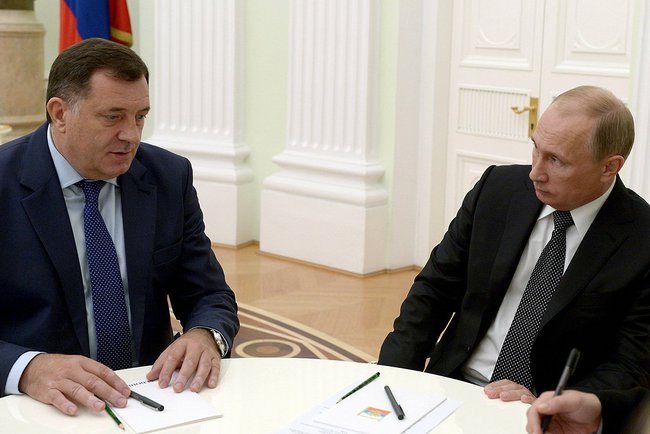 By Mladen Dragojlovic – Banja Luka
President and Prime minister of Republic of Srpska, Milorad Dodik and Zeljka Cvijanovic, met with Russian president Vladimir Putin on Thursday, in Kremlin.
As it was announced from Putin's cabinet, during meeting he emphasize that relations between Russia and Republic of Srpska are good and developing successful.
"I am happy to say that, although the figures of our trade and economic cooperation are modest,  there is an increase in the exchange of goods, more specifically, trade has recently gone up by 25%", said Putin.
Putin also noted that he knows that BiH will have elections soon and wishes success to Milorad Dodik, because he is also aware of the strong support of citizens to Dodik and his party. Putin also said that, during pre election period, political situation is heating up, but after elections everything is going back to normal everyday work.
Dodik informed Putin of the agreements, which the delegation reached in last several days with the russian companies "Zarubeznjeft" and "Gasprom", regarding the delivery of natural gas to Republic of  Srpska without intermediates, something, as Dodik stressed, is very important for this BiH entity.
"Of course, there is a certain stagnation at the state institutions in  Sarajevo, but we are confident that we will resolve this issue very soon", said Dodik.
Dodik also said that "Zarubeznjeft", which has concession on oil fields exploration in Republic of Srpska, informed him that they have found certain amount of oil and are now considering the commercial importance of these findings.
After the meeting, Dodik told the media that Putin also expressed his support on the contract with "Gasprom" and the construction of the "Southern stream" wing through Republic of Srpska.
"This meeting means a lot for Republic of Srpska stability and future", said Dodik after the meeting.
But, many opposition leaders and citizens in the country are not satisfied with this visit, because it comes amidst the electoral campaign. Most critics say that this visit is just a show of Dodik's and his party, the SNSD, during the electoral campaign to show to voters that he has Putin's support.