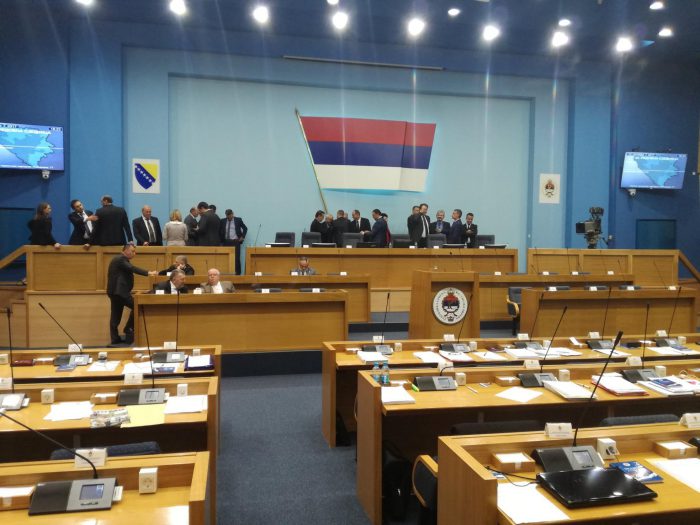 Yet again, opposition parties interrupted the session of Republic of Srpska's National Assembly, after the ruling coalition adopted the agenda.
The parliamentary debate on Tuesday's agenda as well as the last session's protocol lasted for several hours with it ending with the opposition MPs leaving the room after interrupting the session.
Until the moment of the actual voting of the agenda, everything was going smoothly, during Tuesday's session. But problems began after none of the opposition remarks regarding the agenda was accepted. So, they left their seats, went and stood behind the Speaker and his deputies and prevented the continuation of the process. One of the unique "players" this time, were the whistles they some of the MPs used.
Cubrilovic decides to expel certain MPs 
At the beginning, Speaker Cubrilovic, instead of punishing them, decided to adjourn the session till further notice. But later on, he read the names of the MPs whom he wanted out of it and punished them with the exact expulsion from the session.
Possibly, parliamentary work will resume either tonight or tomorrow morning. However, the participation of the opposition remains uncertain.
Vukota Govedarica, the head of the SDS caucus, said before the break that, although opposition members will not participate in the parliamentary debate, they would not leave the room. He stated that the opposition must resist the authorities in RS that they do not respect the Constitution, the laws and Assembly's procedure rules.
Govedarica accused the governing majority by saying, "You are endangering the work of the institutions."
Among other topics, the agenda of the session includes the adoption of the Declaration on military neutrality of RS, on the demand of RS President, Milorad Dodik.
Bosniak and Croat MPs warned that this issue is not Parliament's responsibility rather one of the joint institutions…/IBNA