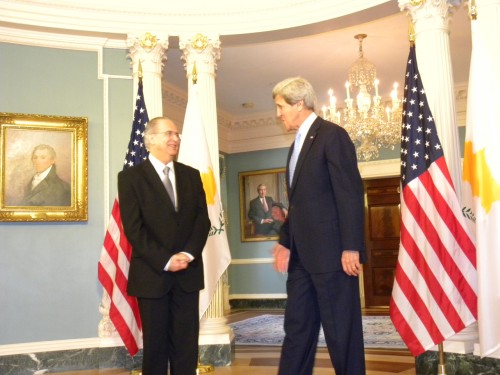 Review Hari Stefanatos
Republic of Cyprus Foreign Minister Ioannis Kasoulides will meet with his US counterpart John Kerry in Washington today to brief him on the latest developments in the Cyprus matter.
The Confidence Building Measures (CBM) and their contribution to the negotiation process are expected to be the dominant issue in the discussions.
US Vice President Joe Biden is going to visit Cyprus on May 21 and is expected to announce a master plan for the wider region of the turkish occupied town of Famagusta, which will include the inspection by experts of the fenced off area of Famagusta, known as Varosha, as well as the clearance of three mine fields. This package will be just the first step of further CBM measures to be announced.
The two men will also discuss  the two countries' bilateral relations, energy issues, the situation in the Ukraine and the Middle East issue.
Kasoulides is also scheduled to address a world congress of the "American Jewish Committee", meet with the leadership of the Greek American community and the American Israel Public Affairs Committee (AIPAC), and finally, hold separate meetings with Jake Sullivan, National Security Advisor to Vice President Joe Biden, and Chairman of the Foreign Relations Committee, Senator Robert Menendez.
(Source CNA)