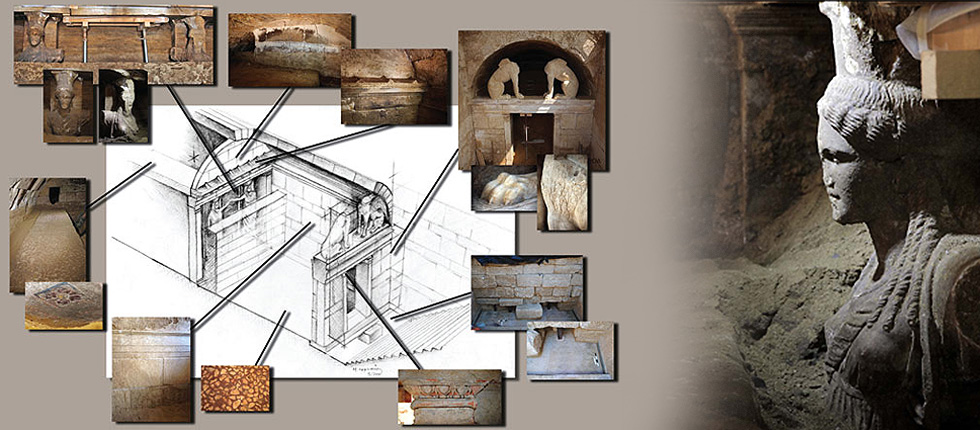 By Spiros Sideris – Athens
Excavations on the hill of Kasta continue with feverish pace from 28th Ephoreia Prehistoric and Classical Antiquities, while at the same time work is being done on the horizontal removal of the sandy soil throughout the space between the septal wall with the caryatids and the third wall, in order to achieve the balance of pressures and ensure the static safety of the monument.
According to an announcement by the Ministry of Culture on Tuesday, the first axonometric design representation of the burial monument was presented, by the architect of the Ministry of Culture, M. Lefantzi, with the two septal walls on which one can see the Sphinxes on the first, and the Caryatids on the second.
Work also continues on the documentation of all archaeological excavations, with digital and conventional means.
"Unique" in size and form, characterizes the tomb Emeritus Professor of Classical Archaeology, Michael Tiberius.
Speaking to the newspaper "Ethnos", he says Caryatids adorn more than four funerary monuments, indicating characteristically the Siphnian Treasury at Delphi.
He adds that the monument of Amphipolis hides inside an important person and this is shown both by the sphinxes and the two impressive caryatids.
"Most of the tombs in Macedonia have been looted, with small exceptions like the royal tombs of Vergina, which have remained intact", he adds.
Speaking to the Discovery Channel, the famous British Egyptologist, Andrew Chang, says that the findings of Amphipolis show that the tomb might belong to the mother or the wife of Alexander the Great.
The author of the book "In search of the tomb of Alexander the Great" stressed that the rosettes of Amphipolis are very similar to those that decorate the gold coffin found in the tomb of Philip II.
He believes that the most likely person to be in the tomb is Olympiada, the mother of Alexander.